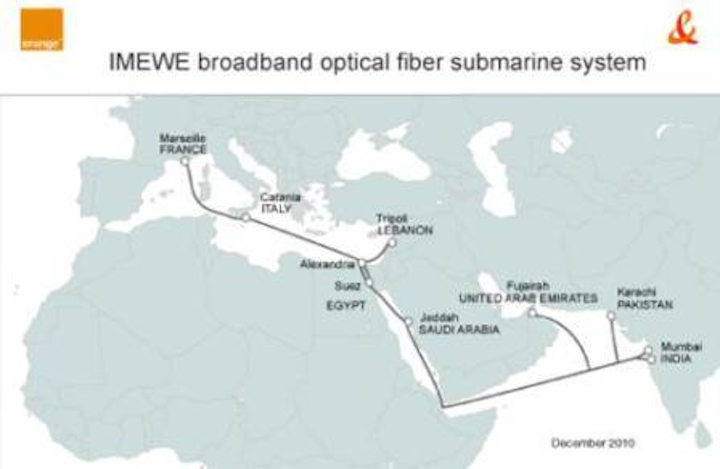 Orange
Ciena's (NYSE: CIEN) says the operators of the IMEWE (India-Middle East-Western Europe) submarine cable network have deployed Ciena coherent transmission technology and automation software to upgrade the undersea network. The enhancements will add capacity to the submarine network as well as enable IMEWE to more quickly deploy new services, Ciena asserts.
As its name implies, the IMEWE submarine cable connects India with Europe via the Middle East. The three-fiber pair, 12,091-km subsea system includes nine terminal stations and is backed by a consortium of nine telecom carriers from eight countries. It began operations late in 2010 with an initial design capacity of 3.84 Tbps based on its ability to migrate to 40-Gbps wavelengths (see "IMEWE broadband submarine cable begins operations, links the Middle East to India and Europe"). The submarine cable network was upgraded twice before this most recent enhancement (see "Mitsubishi Electric upgrades IMEWE undersea cable system" and "Mitsubishi Electric to add 100 Gbps to IMEWE submarine cable system").
IMEWE is moving to Ciena's GeoMesh technology based on the 6500 packet-optical platform and Ciena's Manage, Control and Plan domain controller software. The 6500 packet-optical transport systems will enable IMEWE to support 200-Gbps wavelengths on most of its digital line section, thanks to the use of Ciena's WaveLogic Ai coherent transmission technology, with ability to move to 400-Gbps wavelengths in the future. The upgrade required IMEWE and Ciena to move 36.6 Tbps of live traffic onto the new optical transport systems, a task Ciena says was accomplished "with minimum impact."
"Ciena developed an attractive solution for IMEWE Upgrade III using a proven technology, which will efficiently enable IMEWE to meet future bandwidth requirements," commented Ali Amiri, chairman of the IMEWE Management Committee. "Ciena has been able not only to understand our current network requirements but has provided a scalable network development path for future growth."
For related articles, visit the Network Design Topic Center.
For more information on high-speed transmission systems and suppliers, visit the Lightwave Buyer's Guide.
To stay abreast of optical network deployments, subscribe to Lightwave's Service Providers Newsletter.