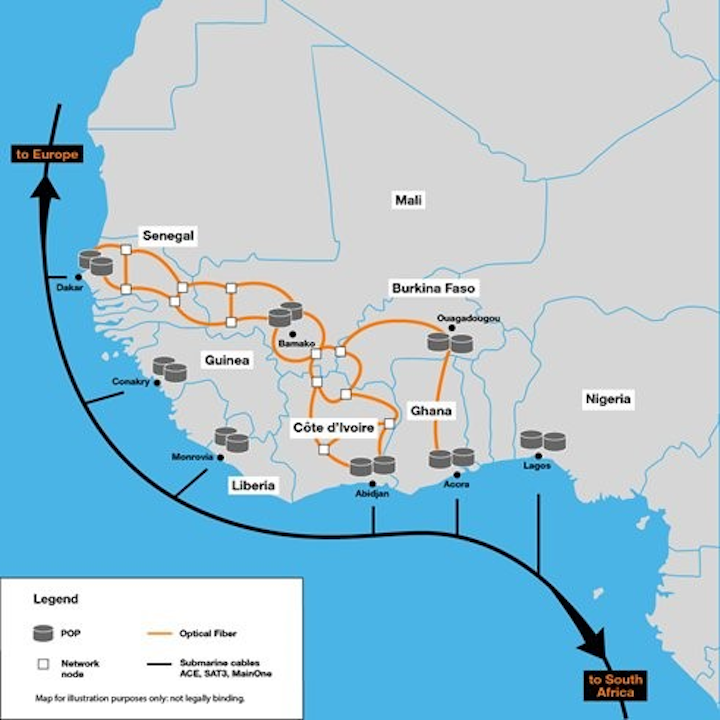 France-based international service provider Orange has unveiled plans to construct a new fiber backbone network connecting eight countries in West Africa. The network will combine centrally supervised terrestrial and submarine cable links to connect such major cities as Dakar, Bamako, Abidjan, Accra, and Lagos. Orange expects to have the fiber backbone network operational in the second quarter of 2020.
As illustrated above, the terrestrial fiber network will run through Senegal, Mali, Burkina Faso, Ghana, and Côte d'Ivoire. The submarine network will add connections to Guinea, Liberia, and Nigeria, as well as landing in Senagal, Côte d'Ivoire, and Ghana. Orange says it will use the fiber infrastructure to support delivery of a variety of services to wholesale customers, including hosting, OP transit, mobile data services (IPX), voice services, security, and content delivery networks. The company also will offer international private line services from 2 Mbps to 100 Gbps and Ethernet private line and Layer 2 VPN from 2 Mbps to 10 Gbps.
"For Orange, this West African backbone network represents a major investment that will secure availability of international connectivity and will enable us to meet the demand for increased bandwidth necessary for the continued digital development of regions within the zone," said Alioune Ndiaye, CEO of Orange Middle East and Africa.
"Through this project, Orange is clearly demonstrating its leadership and expertise in the design, deployment and operation of international network infrastructure," added Jérôme Barré, CEO of Orange Wholesale and International Networks. "We are delighted to be able to offer our West African customers' reliable, secure and high-quality international connectivity that connects them to the rest of the world."
For related articles, visit the Network Design Topic Center.
For more information on high-speed transmission systems and suppliers, visit the Lightwave Buyer's Guide.
To stay abreast of fiber network deployments, subscribe to Lightwave's Service Providers and Datacom/Data Center Newsletters.