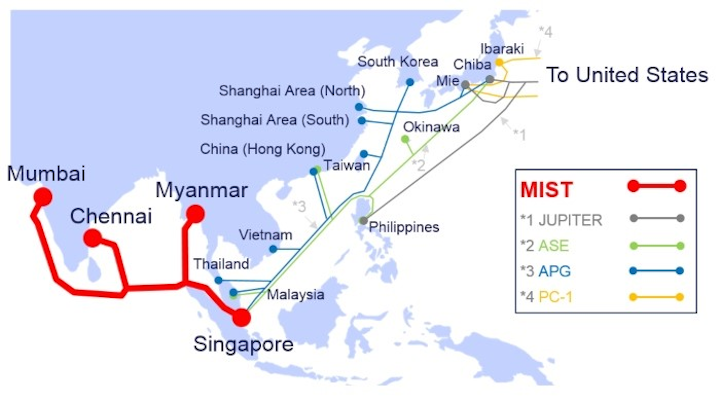 NTT Ltd.
NTT Ltd. says it has joined with Orient Link Pte. Ltd. on a joint venture for international submarine cables. The first project for the joint venture is the MIST submarine cable, which will link Singapore, Myanmar, and India (with landing points in India at Mumbai and Chennai). Construction of the submarine network was scheduled to begin this month. The undersea system is expected to be operational in June 2022.
MIST will be a 12-fiber-pair submarine cable that will run 11,000 km and boast a design capacity of 240 Tbps via 400-Gbps wavelengths. NTT will leverage wavelength-selective switch (WSS) based ROADMs with the submarine cable's branching units to enable rapid remote switching of transmission routes, which NTT says is beneficial in the case of "a natural disaster or any other unforeseen situation in coastal areas of India." NTT will invest approximately $400 million to deploy MIST.
NTT operates data centers in each of the three countries MIST will connect. The service provider plans to connect the MIST cable landing stations directly to each data center via high-capacity fiber network links that NTT will own, build, and operate. NTT also will centrally maintain and operate the landing stations.
"Businesses and individuals from all over the world are experiencing the accelerated growth of digital connectivity – and this is especially true within Asia. Globally, India and South East Asia are some of the world's fastest-growing economies," pointed out NTT Ltd. CEO Jason Goodall. "As digital investment and demand for data capacity continues to increase, providing access to reliable connectivity will remain critical to accelerate economic and social growth. The implementation of MIST will ultimately allow us to work with our clients around the world to build a truly connected future."
As the image about illustrates, NTT already operates a number of submarine cables in the region. These include the Asia Submarine Cable Express (ASE), Asia Pacific Gateway (APG), Pacific Crossing-1 (PC-1), and JUPITER cables, the last of which is under construction.
For related articles, visit the Network Design Topic Center.
For more information on high-speed transmission systems and suppliers, visit the Lightwave Buyer's Guide.
To stay abreast of fiber network deployments, subscribe to Lightwave's Service Providers and Datacom/Data Center newsletters.