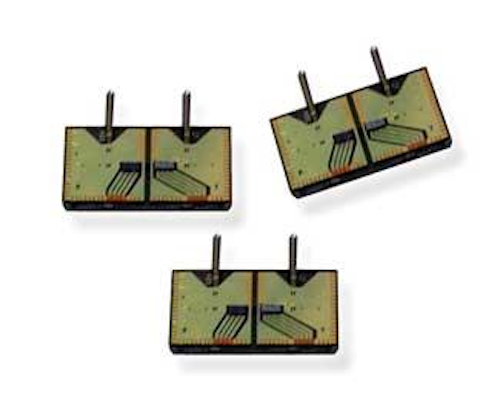 by Meghan Fuller
Israeli-based XLoom Communications Inc. (www.xloomcom.com) was founded in 2002, making it "a post-bubble kind of company," in the words of chief executive officer David Sachs. Times were so hard, in fact, the company only managed to raise around $10 million, but you won't hear Sachs complaining. "It's just the nature of the beast with entrepreneurs: You run when you are under threat," he says. "And I guess when you don't have a lot of money, you run faster."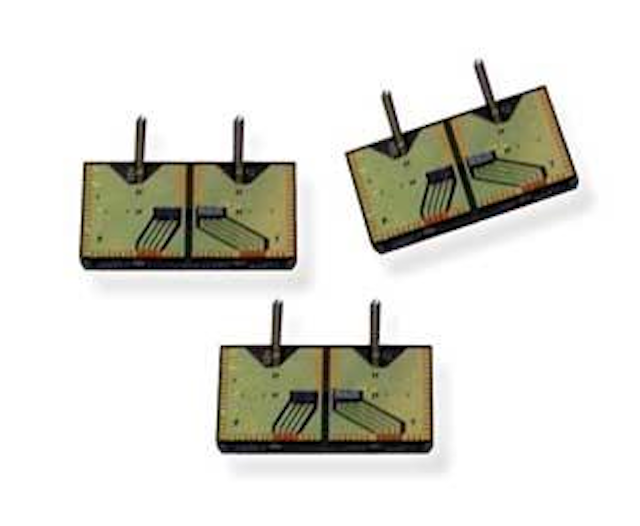 XLoom Communications' iFlame optical engine targets high-speed, high-density interconnect applications, including optoelectronic media converters, small-form-factor optical active connectors and cables, and traditional transceivers like the emerging QSFP.
XLoom Communications recently revealed the fruits of its labor, which it claims is the first multichannel, high-density optical engine available to equipment manufacturers for grid computing and data center applications. "I think we did it for less than $2 million," says Sachs, "which is an achievement in itself."
The iFlame is a chip-scale four-channel optical transceiver aimed at data center applications running over InfiniBand, Ethernet, and Fibre Channel. Implemented as an optical engine, the iFlame may be used in high-speed, high-density optical interconnect applications, replacing the bulky copper interconnects that suffer from distance limitations. Sachs notes that the iFlame's small package-it is 10×5×2 mm, or less than 1 cm2-and low power consumption make it ideal for use in small-form-factor optical interconnects.
The four-channel transmit and receive chip features four 850-nm VCSELs and four photodiodes, supporting data rates of 1.25- to 5-Gbits/sec per channel, for an aggregate rate of 20 Gbits/sec per chip.
The company did not originally intend to make its optical engine commercially available; it was built specifically for use in XLoom's own end-user product. But XLoom decided to offer the iFlame separately "to spur the industry. It wasn't originally in our business plan, but it kicks in nicely because if we sell more of these, the cost to us per device is lower," says Sachs. "If we run 20 wafers for ourselves and, let's say, 20 wafers for another customer, everyone wins."
This economy of scale is important to XLoom, as it represents the cornerstone of the company's philosophy and business strategy. The company says it can sell its device around $2 per gigabit today and hopes to increase volumes enough to lower the price to $1 per gigabit.
"We're hoping our customers will make money out of this device by adding their own margins because it's an optical device," says Sachs. "The business proposition is what will drive this, not the fancy technology. Technology will only take you so far; at the end of the day, someone has to make a purchasing decision," he muses. "People don't buy technology. They buy products and applications, and that's why we've had a lot of vendors look at this and say, 'Okay, we're going to use this if you put it in the right package.' So we are very confident we're going to see very early revenues with this kind of product," he asserts.
XLoom also hopes to leverage the iFlame for emerging 40-Gigabit Ethernet (40GbE) applications, a market that received significant validation when the IEEE Higher Speed Study Group (HSSG) recently voted to develop a 40GbE spec along with its 100GbE spec. "We're happy that 40G got the thumbs up," admits Sachs. The company expects to be among the first with a product, probably in six to nine months.
The iFlame can support a parallel architecture of four wavelengths of 10-Gbits/sec apiece, "which is what some folks want to see," says Sachs. "The advantage is-at least for the face plate-you don't have to redesign your board. If you go with us, we'll have 10, 20, and 40 [Gbits/sec] in the same package and in a very small form factor. I think that's appealing to people because of the cost associated with integrating new devices, qualifying them, getting them into their procurement system, making sure they are reliable and so on."
XLoom also believes it has a head start in the 100GbE market, where it will leverage its first-generation optical chip, the InfiniFlame 12x, which Sachs calls "our first bold try to squeeze 12 channels into an XFP form factor." Market demand did not materialize as XLoom had hoped but, in light of the recent buzz surrounding 100GbE, the company does not regard it as wasted effort. Sachs remains somewhat coy about XLoom's roadmap, arguing that the market is still two or three years away and "maybe up to four years before we see a mature product." That said, he adds, "I know our technology can support [100GbE]."