Collaborative drives commercialization of 40-Gbit/sec technology
Mar 1st, 2002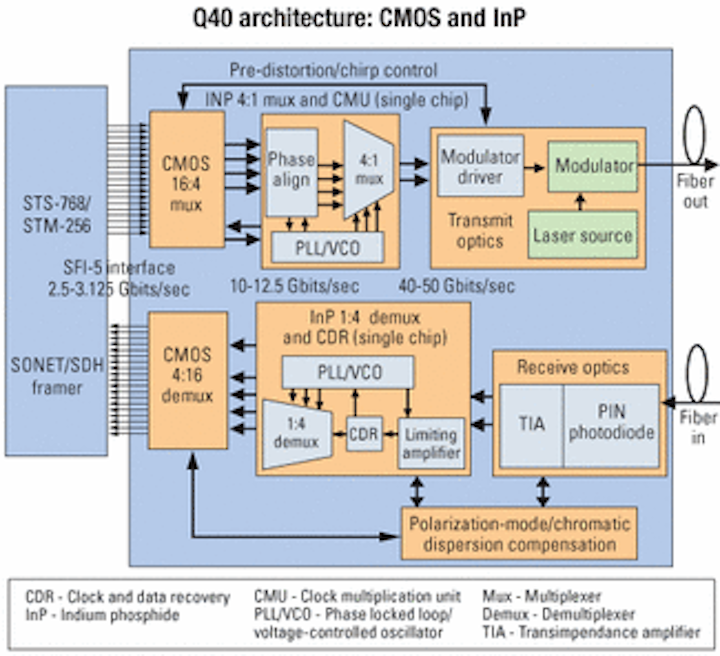 TRENDS
By CAROLYN MATHAS
Just before the 2001 holiday season, long- and ultra-long-haul photonic-system supplier PhotonEx (Maynard, MA) identified the need for a new business alliance to forward the adoption of 40-Gbit/sec technology. By Jan. 15, the 40G Collaborative, complete with 10 charter members, was announced. The collaborative's mission is twofold: to commercialize 40-Gbit/sec and faster network-wide smart photonic systems and create an educational platform to promote the discussion of issues, challenges, and solutions to make 40 Gbits/sec a reality.
"Confusion in the industry as to what it takes to make 40G a realistic and deployable technology for the service-provider network as well as overcoming hurdles to 40G adoption were the impetus to forming the collaborative," says Phil Francisco, marketing vice president at PhotonEx. "We wanted to gather and work with key developers who can effectively answer questions that need to be addressed. Our intent is to provide education covering real issues through joint announcements, byline articles, technical advisories, and events that include multiple 40G Collaborative members."
Tim Waters, vice president of marketing and business development for intelligent optical engine supplier Onetta (Sunnyvale, CA), agrees: "Education and awareness-building is critical at this time to position the 40G evolution. Like any new technology, adoption takes time and awareness. What the collaborative is trying to establish is that the economics associated with 40G are viable. We build awareness today, and when the industry moves through the education process, 40G will be well-positioned for 2003 deployment."
Addressing misconceptions
Not associated with working groups or standards bodies, the collaborative did not form as a result of frustration with a standards body, but rather as a collection of companies focused on the forward movement of a technology. Members see an opportunity to address issues and misconceptions specific to 40-Gbit/sec implementation.
"Issues such as dispersion compensation and loss characteristics of fiber are critical to 40G implementation," says Francisco. "While they are challenges that need to be addressed, they can be overcome with the correct approach. That's the key that the collaborative will focus on: providing a holistic, system-level solution. If there's a core theme to the 40G Collaborative, it's companies working together to make deployment a reality."
In addition to challenges, classic misconceptions include the assertion that the embedded fiber plant can't support 40 Gbits/sec of transmission and that such transmission rates are not a necessity in today's network. Systems exist, according to Francisco, that operate over embedded fiber plant in the network at reaches of thousands of kilometers without optical regeneration. He also asserts that economically, capacity at 40 Gbits/sec offers greater efficiency in the way capital expenditures are deployed. In addition, fewer elements in the network will result in operational savings.
Onetta's Waters sees a void rather than misconceptions. "I think we have an opportunity to educate and raise awareness. We can show people now that they should deal with the reality of 40G rather than wait until some point in the future. We can address the commercial availability of components and demonstrate that they are real, qualified, certified, and solid systems," he says.
Rob Williamson, product-line manager for high-speed optoelectronics at New Focus (San Jose, CA), provider of high-speed data drivers and clock amplifiers, sees the collaborative as similar to the 10-Gigabit Ethernet Alliance. "As time goes on, I think people will understand that eventually 40G systems will be the lower-cost alternative, since four times fewer components will be required for a given system of the same data rate," he explains. "This, naturally, is dependent on the development and engineering of components so that they can achieve less than four times the cost of 10G parts."
In the short term, a collaborative goal is to provide real and accurate data so that industry analysts, the press, and prospective customers are knowledgeable about the near-term efficacy of 40-Gbit/sec solutions in the network. Long-term, multiple equipment and service providers are expected to team with the collaborative to focus on where and how far networking at 40 Gbits/sec or faster can be taken down the road. However, the organization is not expected to have an infinite life.
Waters identifies his long-term objective: "That this collaborative, at the highest level of the food chain-at the service-provider model-drives or strongly influences the education, testing, acceptance, and deployment of these types of networks within the carrier space."
2001's impact
Although capital spending in the service-provider arena has generally slowed deployment of new technologies and delayed buying decisions, the collaborative position is that 40-Gbit/sec systems will begin to see revenue from late 2002, ramping up in 2003. The acceptance of 40 Gbits/sec will be driven by the efficacy of using it in the network and the economics of deployment.
"One of the pleasant surprises in putting together the collaborative," says Francisco, "is how quickly members got on board. It's been a time of confusion and people are usually more hesitant to do new things. The partners we've brought together are all very excited and positive about the collaborative as a strong educational solution."
Adds Waters, "This is a timing opportunity for a number of component players to bring devices and subsystems to establish the availability of supply and second- and third-sourcing opportunities. The timing is just right. It truly becomes how we bring the industry to the point where they can say, 'I got it!' I believe we can do it with this collaborative effort."
Charter companies are Corning, Inc., Filtronic plc, JDS Uniphase Corp., LaserComm Inc., Lightwave Microsystems Corp., Microwave Concepts Inc., New Focus Inc., Onetta Inc., Optigain Inc., and PhotonEx. The roster represents industry veterans and newcomers, spanning such offerings as optical components, subsystem modules, fiber, amplifier technology, including Raman amplifiers, and radio-frequency and dispersion compensation technologies-all of which deliver innovative products to enable a holistic 40-Gbit/sec system solution.
As 40-Gbit/sec systems hit the market this year, the collaborative expects to engage in several technical activities and plans to invite companies that are committed to bringing viable and economical 40-Gbit/sec enabling technology to market. The collaborative currently does not have a Website; interested companies should contact PhotonEx directly (www.photonex.com).


---

As if to illustrate the momentum behind the 40G Collaborative, Inphi Corp. (Westlake Village, CA) will cap a series of 40-Gbit/sec component releases with the unveiling of multiplexer and demultiplexer chips at this month's OFC conference in Anaheim, CA.
The 4320MX/4020MX multiplexers and 4320DX/4020DX demultiplexers take advantage of Inphi's indium phosphide (InP) processes to provide low power consumption (<2.5 W each) and high performance, according to Paul Washkewicz, the company's marketing vice president. The multiplexers carry an integrated clock multiplication unit and full-rate clock and exhibit <5 psec p-p of jitter and a rise and fall time of <8 psec (20-80%). It operates with a single 3.3-V power supply. The demultiplexers integrate a nonreturn-to-zero clock and data recovery function as well as a limiting amplifier. They provide wide voltage-controlled oscillator tuning range and operate via a single 3.3-V power supply. The 4020 chips support 40-Gbit/sec transmission and reception, while the 4320 chips enable 43-Gbit/sec rates.
The chips are currently sampling; they will be generally available this month in metallized or custom ceramic packages. The surfacemount ceramic packages will measure 0.375
The devices couple directly with CMOS, a key enabler of the Q40 architecture for 40-Gbit/sec transceivers that Inphi and Broadcom Corp. (Irvine, CA) presented to the Optical Internetworking Forum (OIF) at the end of January. The architecture combines 16:4 CMOS-based multiplexers with InP or silicon germanium (Inphi understandably prefers the former) 4:1 multiplexers (and 1:4 and 4:16 devices, respectively, on the receive side) to support 40-50-Gbit/sec transmission within the format of the 300-pin 40-Gbit/sec transceiver multisource agreement announced last October by Agere Systems, Agilent Technologies, Alcatel Optronics, Ericsson Microelectronics, ExceLight Communica tions, JDS Uniphase, Mitsubishi Electric, NEC, and OpNext.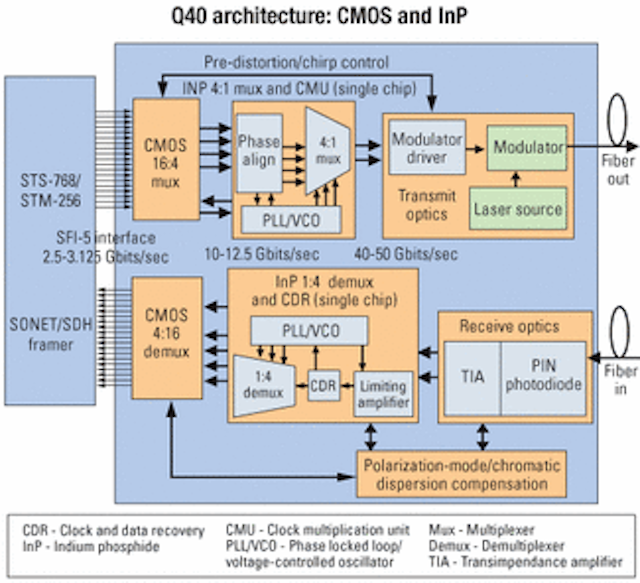 The Q40 architecture proposed by Broadcom and Inphi combines 16:4 and 4:1 multiplexers on the transmit side with 1:4 and 4:16 demultiplexers on the receive side. Inphi expects to be able to provide the components shown in light blue-with the exception of the PIN photodiode in the receive optics-although the company is not commenting currently on its work in polarization-mode dispersion and chromatic dispersion compensation.
The architecture takes advantage of the recently approved SFI-5 interface specification. According to Washkewicz, the architecture in its CMOS/InP incarnation provides multiplexing, demultiplexing, and clock and data recovery for <7.5 W of power. Such a module, combined with an electro-absorption modulator, would consume <15 W, he says. In addition to the low power, the InP and CMOS combination affords enough bandwidth for as much as 25% overhead for forward error correction and exhibits low jitter. The architecture also provides polarization-mode dispersion and chromatic dispersion compensation.
Between the OIF meeting and OFC, Inphi also released a series of modulators, including the 4310DZ for 40-43-Gbit/sec applications. The dual Mach-Zehnder device offers 4-8-V differential output modulation, rise and fall times of 12 psec, added jitter of 2.5 psec p-p, and group delay variation of
The company also announced 12.5-Gbit/sec return-to-zero and nonreturn-to-zero modulators. All three modulators are currently sampling.
-Stephen Hardy