Product Showcase
The LX8220 is a compact 40G DQPSK optical modulator enabling 4.5×5.5" 300-pin transponders for metro applications.
Sep 1st, 2012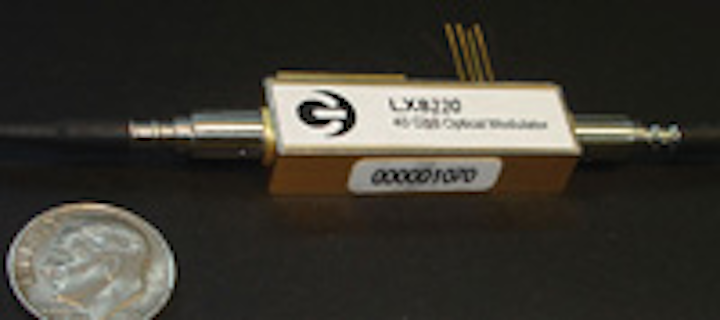 Equipment Design
LX8220
GigOptix
The LX8220 is a compact 40G DQPSK optical modulator enabling 4.5×5.5" 300-pin transponders for metro applications. Its low drive voltage ensures low power consumption without compromising on optical performance.
www.gigoptix.com
Equipment Design
USB To Fiber Optic Bit-Driver
S.I. Tech
Supports USB 1.1 and 2.0 plug and play, multimode or singlemode for secure communication, remote security cameras, instruments, or other USB devices, extended-distance. EMI/RFI immunity. Order: 1.KIT #26 for complete multimode system. 11.3181/3182 for tempest version.
www.sitech-bitdriver.com
Networking
Get optical signal analysis capabilities into a compact, affordable and portable unit
Agilent
Deeper analysis and greater flexibility of complex modulated signals for 100G designs at a fraction of the cost, size and weight of existing optical modulation analyzers. Why wait?
www.agilent.com
Equipment Design
Rev2 Micro-Polisher
Krell Technologies
Rev2 automates connector air-polishing using a "micro-feed" feature that gradually lowers the ferrule to the polishing surface at a controlled rate. This provides superior control for fiber-denub and epoxy removal.
www.krelltech.com
Test
Terahertz Technologies' FTE-7500A OTDR
Terahertz Technologies Inc.
This US made OTDR has a generous 36dB dynamic range, a short 1 meter dead zone and an updated easy to read menu that offers quick navigation between features.
www.terahertztechnologies.com
Equipment Design
IntelliGain™ Optical Channel Performance Monitors C, L, CWDM, Wideband
BaySpec, Inc.
100% Made-in-the-USA, BaySpec's Optical Channel Monitors feature ultra fast sub-50 milli-second response, high compact size, and low power consumption. With over 30,000 units shipped, the ruggedized design ensures long life – now available in reduced height option <10mm!
www.bayspec.com
fttx
Lindsay Broadband RFoG, MDU Series Optical Node
Lindsay Broadband
Lindsay Broadband LBR- ONU-MDU/HFC series of optical nodes are specifically designed for the growing FTT- MDU market (apartment, School, or Hospital). Advanced GaAs-FET technology, high output levels, low power consumption. Lindsay Tough.
www.lindsaybroadbandinc.com
EQUIPMENT design
Coherent 64 Gbaud Photodetector
u2t Photonics AG
The CPDV1200R extends u²t's family of highly integrated coherent products. It consists of a polarization diversity network as well as two 90° hybrids and 4 balanced photodiode pairs monolithically integrated on InP.
www.u2t.com
Test and Measurement
Optical Wavelength Meters
Bristol Instruments
Optical wavelength meters precisely characterize the wavelength of DWDM lasers. Multi-wavelength meters measure wavelength, power, and OSNR of DWDM signals. High accuracy and reliability achieve the most meaningful test results.
www.bristol-inst.com
These are the latest products being featured by Lightwave's partners. For more information, click on the link at the end of each description.
For advertising information, contact Kathleen Skelton.