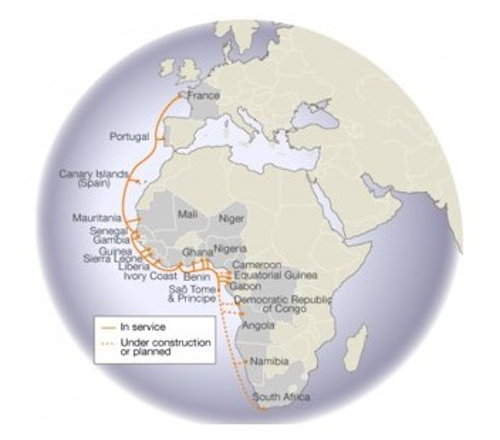 The Africa Coast to Europe (ACE) submarine cable has added landing stations in Benin and the Canary islands, according to consortium member Orange.

The new connections are part of the second phase of the submarine network's construction. The undersea cable now serves 18 countries. France, Portugal, the Canary Islands (Spain), Mauritania, Senegal, Gambia, Guinea, Sierra Leone, Liberia, Côte d'Ivoire, Benin, Ghana, Nigeria, Equatorial Guinea, Gabon, and São Tomé and Príncipe are served via subsea connections. Mali and Niger connect via a terrestrial fiber-optic network extension.

The new construction sees the submarine cable land in Cotonou, Benin and Tenerife, Canary Islands, Spain.

Operational in 2012, the ACE fiber-optic cable system will cover 17,000 km and will be extended to South Africa by the end of this second phase. Additional branches will connect Cameroon, the Democratic Republic of the Congo, Angola, and Namibia. In addition to Orange, consortium members include Orange subsidiaries Côte d'Ivoire Telecom, Orange Cameroon, Orange Mali, Orange Niger, and Sonatel, as well as what Orange described as "other major partners" (see "France Telecom-Orange announces Africa Coast to Europe cable lands in Brittany" for a list).

Overall network capacity will reach 12.8 Tbps using 100-Gbps optical transmission technology, Orange says. Alcatel-Lucent is supplying the transmission equipment (see "Alcatel-Lucent to supply gear for Africa Coast to Europe cable").

For more information on high-speed transmission systems and suppliers, visit the Lightwave Buyer's Guide.