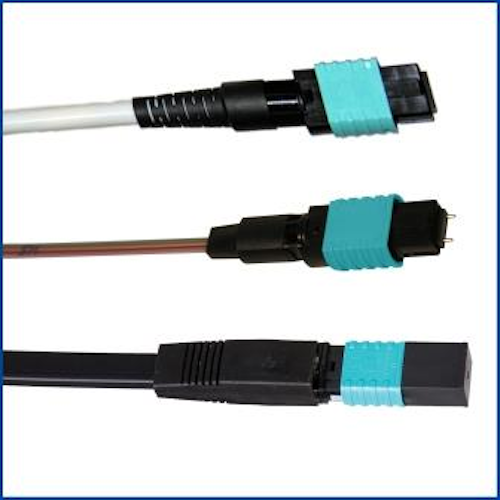 Sumitomo Electric Lightwave says its Lynx2 CustomFit MPOQ8 Splice-On Connector is the first available for eight-fiber QSFP-40G–SR4 MPO applications. The company expects to see the connector used in 40 Gigabit Ethernet and 100 Gigabit Ethernet enterprise and data center network links.

The fiber-optic connector is designed for use with laser optimized OM4 eight-count multimode fiber ribbon cable. Installers can use the eight-fiber MPO splice-on-connector for on-site fiber-optic cable installations, including permanent terminations of jumpers, trunk cables, harnesses, and arrays.

The company points to the growing use of eight–fiber ribbon cables as an alternative to 12-fiber cable. The smaller count overcomes the cost, optical performance, and compatibility issues 12-fiber cables sometimes create through unused fibers, unnecessary connectivity points, and conversion module hardware. The elimination of conversion modules alone can save hundreds of dollars per port, Sumitomo Electric Lightwave points out.

The transition from a 12-fiber count to 8 fibers is made within the ferrule of the 8-fiber MPO splice-on connector. The connector is compatible with other QSFP-40G-SR4 connectors and 100GbE modules that leverage 25G transmission. The connector's insertion loss is < 0.35 dB. The connector also is compatible with Sumitomo Electric Lightwave's Quantum Type-M12 mass fusion splicer as well as splicers from other manufacturers.

For more information on connectors and suppliers, visit the Lightwave Buyer's Guide.