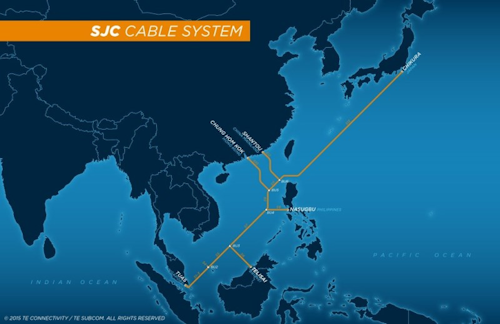 TE SubCom, a TE Connectivity Ltd. (NYSE: TEL) company, says it has completed a capacity upgrade to the South-East Asia Japan Cable (SJC) System. This is the third enhancement TE Subcom has made to the submarine network since it entered service in 2013 (see "TE SubCom, SJC Consortium upgrade Southeast Asia-Japan Cable System" for information on a previous upgrade).
SJC connects Brunei, mainland China, Hong Kong, Japan, Singapore and the Philippines (see map above). It runs 8,986 km.
The latest enhancement increases the undersea cable system's capacity by 6.3 Tbps via TE SubCom's C100U+ 100-Gbps coherent transmission technology. The company announced the upgrade project this past April (see "TE SubCom revisits South-East Asia Japan Cable System for third upgrade").
The SJC consortium comprises Brunei International Gateway Sendirian Berhad (BIG), China Mobile International Ltd. (CMI), China Telecommunications Corporation (China Telecom), China Telecom Global Limited (CTG), Donghwa Telecom Co. Ltd (DHT) (a subsidiary of Chunghwa Telecom, Co., Ltd.), Globe Telecom, Inc., Google, KDDI Corporation, Singapore Telecommunications Limited (Singtel), PT Telekomunikasi Indonesia International (Telin a subsidiary of PT Telekomunikasi Indonesia, Tbk), and TOT Public Co., Ltd. (TOT).
For related articles, visit the Network Design Topic Center.
For more information on high-speed transmission systems and suppliers, visit the Lightwave Buyer's Guide.