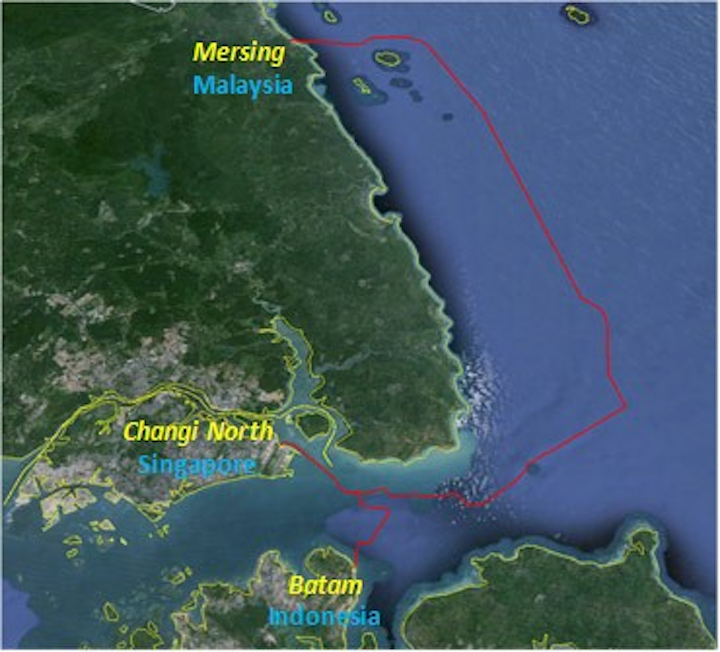 Huawei Marine Networks Co., Ltd. says it has received a contract from Super Sea Cable Networks Pte. Ltd. to deploy SEA Cable Exchange-1 (SeaX-1). The undersea cable network will connect the eastern seaboard of peninsular Malaysia, Singapore, and Indonesia (see map above).
The submarine network will stretch 250 km and comprise 24 fiber pairs. It will land in Mersing (Malaysia), Changi (Singapore), and Batam (Indonesia). Super Sea Cable Networks will operate the system once it is completed (a goal expected to be reached by the end of 2017) and commissioned. Super Sea Cable Networks is a Singapore-based company with a facilities-based operator (FBO) license in Singapore. Also onboard are SACOFA Sdn. Bhd., a telecommunication infrastructure provider in Sarawak, East Malaysia, to do the landing in Malaysia, and its affiliate company, PT. Super Sistem Ultima, a telecommunication infrastructure provider in Indonesia, to do the landing in Indonesia.
"SeaX-1 passes through one of the busiest region in the Asia Pacific region, where bandwidth demands are increasing exponentially. We believe this new submarine cable system will relieve bandwidth pressures on existing infrastructure and continue to provide this region with high-speed, reliable connectivity that will fast-track its growth," according to Joseph Lim, CEO of Super Sea Cable Networks. "We are pleased to partner with the experienced team from Huawei Marine to deliver this unique network solution that allows us to deliver on our promise."
For related articles, visit the Network Design Topic Center.
For more information on high-speed transmission systems and suppliers, visit the Lightwave Buyer's Guide.