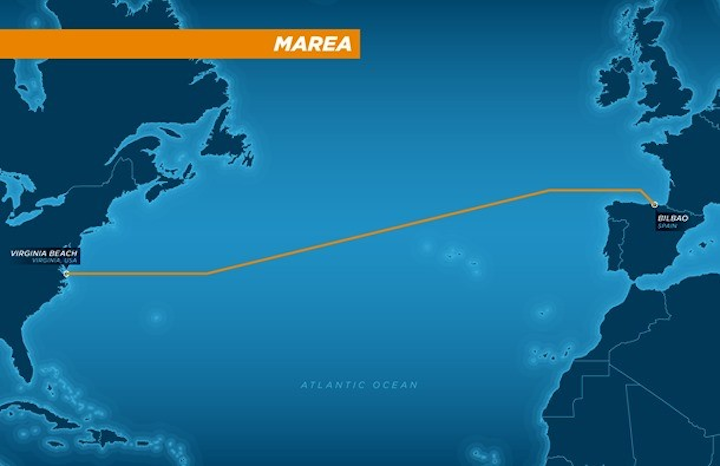 Webscale giants Microsoft (NASDAQ: MSFT) and Facebook (NASDAQ: FB) have decided to partner on the construction of an undersea cable system. The MAREA submarine network will cross the Atlantic with the help of Telxius, Telefónica's recently created telecommunications infrastructure company (see "Telefónica spins out infrastructure assets to create Telxius").

Construction of MAREA should begin this August and run into October 2017, Microsoft and Facebook say. The 6,600-km submarine cable system will consist of eight fiber pairs and sport an initial estimated design capacity of 160 Tbps.

The undersea fiber-optic network will connect from the data hub Virginia Beach, VA, with Bilbao, Spain, with onward connectivity to Europe, Africa, the Middle East, and Asia. The planned route will take the system south of other transatlantic fiber cable systems, which the companies believe will improve reliability and resiliency.

In addition, the open design of the network should enable compatibility with equipment from a variety of sources. Microsoft and Facebook say this approach will lower costs and ease future upgrades.

"By creating a vendor-agnostic design with Microsoft and Telxius, we can choose the hardware and software that best serves the system and ultimately increase the pace of innovation," according to Najam Ahmad, vice president of network engineering at Facebook. We want to do more of these projects in this manner — allowing us to move fast with more collaboration. We think this is how most subsea cable systems will be built in the future."

"Microsoft is committed to building out the unprecedented level of global infrastructure required to support ever faster and even more resilient connections to our cloud services," wrote Frank Rey, director, global network acquisition, Microsoft Cloud Infrastructure and Operations, in a blog post. "This robust, global infrastructure will enable customers to more quickly and reliably store, manage, transmit and access their data in the Microsoft Cloud."

Both companies have leased capacity on undersea cable systems previously (see, for example, "Microsoft invests in transatlantic submarine network capacity"). However, it appears the webscale service providers now believe they will need access to their own network to meet expected demands.

For related articles, visit the Network Design Topic Center.

For more information on high-speed transmission systems and suppliers, visit the Lightwave Buyer's Guide.