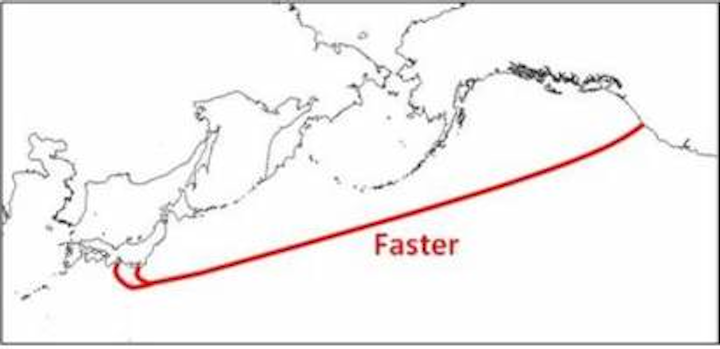 NEC Corp. says it has won a contract from a consortium of six companies, including Google, to build the "FASTER" trans-Pacific submarine network. The undersea cable system will run from two landing stations in Japan to the United States at an estimated cost of $300 million.

In addition to Google, the six-company consortium includes China Mobile International, China Telecom Global, Global Transit, KDDI and SingTel.

FASTER will leverage six-fiber-pair fiber-optic cable and coherent optical transmission technologies to boast an initial design capacity of 60 Tbps (100 Gbps x 100 wavelengths x 6 fiber-pairs). It will land in Chikura and Shima in Japan and connect to "many" neighboring cable systems to extend the capacity beyond Japan to other Asian locations, NEC says. The landing point in the U.S. was not revealed; however, NEC says that U.S. connections from that hub will extend to such US West Coast locations as the Los Angeles, San Francisco, Portland, and Seattle areas.

Woohyong Choi, chairman of the FASTER executive committee, said, "FASTER is one of a few hundred submarine telecommunications cables connecting various parts of the world. These cables collectively form an important infrastructure that helps run global Internet and communications. The consortium partners are glad to work together to add a new cable to our global infrastructure. The FASTER cable system has the largest design capacity ever built on the trans-Pacific route, which is one of the longest routes in the world. The agreement announced today will benefit all users of the global Internet."

Construction of the FASTER submarine cable network will begin immediately, NEC says. The system is targeted to be ready-for-service during the second quarter of 2016.

For more information on high-speed transmission systems and suppliers, visit the Lightwave Buyer's Guide.