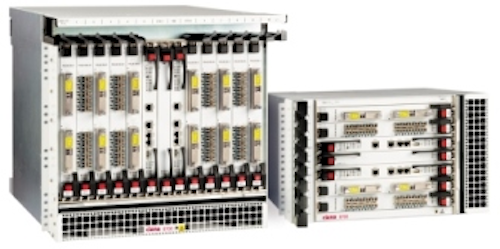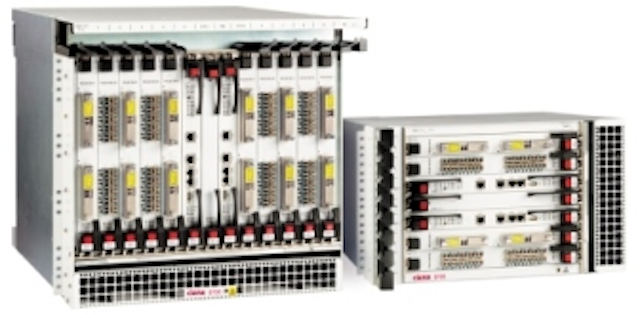 Optical transport and packet networking vendor Ciena (NYSE: CIEN) says it has created a new class of packet switch with the introduction of the 8700 Packetwave Platform. The Ethernet-focused packet switch, aimed at metro and data center connectivity applications, is distinguished both by what it has (for example, integrated 100G optics) and what it doesn't (IP/MPLS capabilities).

According to Brian Lavallée, director of product and technology marketing at Ciena, the company believes that Ethernet has come to dominate metro networks, particularly as data center interconnect grows as a major application. Therefore, a platform optimized for Ethernet traffic makes more sense than an IP/MPLS-based routing platform, as the IP/MPLS capabilities of competing platforms essentially goes to waste, he explains. In addition, efficient high-speed transmission of that Ethernet traffic also has emerged as a requirement, particularly as 10 Gigabit Ethernet (10GbE) traffic becomes more regularly aggregated into 100GbE pipes.

Ciena designed the 8700 Packetwave Platform with these realities and requirements in mind, Lavallée says. The system offers 2 Tbps of switching capacity for both Ethernet and MPLS-TP. It also leverages the latest generation of Ciena's WaveLogic 3 coherent transmission technology to support a pair of coherent interfaces per blade. These blades have direct access to the switch fabric, which means that high-speed optical transmission can be provided without losing switch capacity, Lavallée says.

The result is a platform that offers 10GbE to 100GbE Ethernet aggregation and switching over DWDM – what Lavallée repeatedly called "Ethernet over light" – in half the size and with significantly less power consumption than competing platforms, according to Ciena. Service providers also can use the platform for 40GbE/100GbE service demarcation support for MEF 2.0 compliant services as well as to provide automated virtual cross-connect capabilities to support on-demand service provision.

The virtual services support comes via the system's programmability. Transport software-defined networking (SDN) requires programmable hardware, and Lavallée asserts Ciena has designed the 8700 Packetwave Platform with this paradigm in mind via the incorporation of the company's OPn architecture principles. The architecture includes a northbound API that provides an SDN controller with access down to Layer 0.

Ciena plans to make the 8700 Packetwave Platform generally available this summer, with the addition of support for Ciena's V-WAN software following in the fall. Several customers have begun lab trials of the new platform; Ciena has identified Fibertech Networks, which provides metro fiber-optic network services in the U.S. Northeast, as one of them. Lavallée says that other carriers have approved the system for use in their networks and are waiting for the platform to reach GA. The platform will come in both 4- and 10-slot versions.

For more information on high-speed transmission systems and suppliers, visit the Lightwave Buyer's Guide.

Want to learn more about packet transport innovation? Attend the Lightwave Optical Innovation Summit
The Lightwave Optical Innovation Summit will feature panels and presentations that will illuminate where optical innovation is required in carrier and enterprise/data center networks, what it should look like, and when it might appear. A wide range of experts from the user, technology development, academic, and analyst communities will offer their views on innovation in a variety of areas, including packet transport. Find out more about the Summit, which will be held in Austin, TX, July 14-16, at the Lightwave Optical Innovation Summit website.