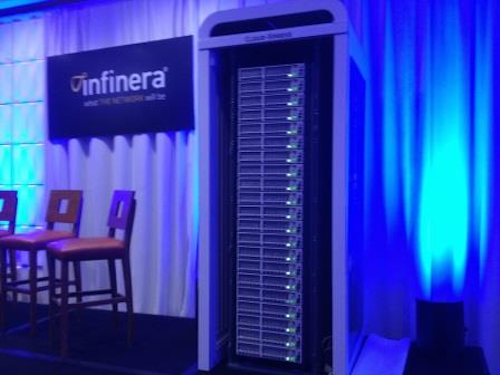 Infinera Corp. (NASDAQ: INFN) says it has shipped the Infinera Cloud Xpress for production deployment as well as field trials to multiple customers.

The Cloud Xpress is a family of metro optical transmission platforms designed for network operators delivering cloud-based services to consumers and businesses worldwide. Cloud Xpress customers include Internet content providers, data center operators, and large enterprises, according to the vendor.

Infinera announced the Cloud Xpress this fall (see "Infinera tackles metro on two fronts"). The Cloud Xpress platform is optimized for the metro cloud, the transport network that provides data center connectivity within a metro area. A small, stackable platform, Cloud Xpress is designed to simplify the deployment of high-bandwidth connections while lowering the power and space required to scale metro cloud networks.

"As cloud applications and services have grown in importance, the need for high-speed data center interconnection has grown at a very high rate," said Paul Parker-Johnson, practice lead, cloud and virtual system infrastructures at ACG Research. "This has generated the need for new transport solutions with leaner form factors, higher densities, and superior operating efficiencies. Cloud Xpress is well-positioned to participate in the emerging service provider data center interconnect transport market, which we expect to reach $4 billion by 2019."

The Infinera Cloud Xpress features 1 Tbps of input and output capacity in two rack units with up to 500 Gbps of line-side capacity and a mix of 10 Gigabit Ethernet (GbE), 40GbE, and 100GbE client-side interfaces. The Cloud Xpress is designed with a rack-and-stack form factor and a software approach that enables it to plug into existing cloud provisioning systems using open software-defined networking (SDN) application programming interfaces (APIs).

For more information on high-speed transmission systems and suppliers, visit the Lightwave Buyer's Guide.