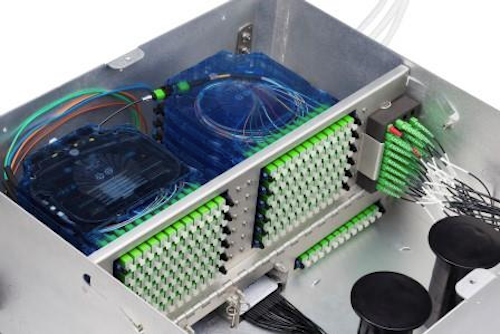 Fiber management and connectivity supplier Clearfield, Inc. (NASDAQ:CLFD) has unveiled the latest addition to its FieldSmart family of products, the FieldSmart ZoneBox. The ZoneBox is a ceiling or floor mount panel for fiber-optic cables in inside plant applications, including passive optical LAN (POLAN), fiber demarcation, CATV, entrance facilities, security systems (CCTV), telecommunications rooms, and MDUs.

The FieldSmart ZoneBox provides access to up to 144 fibers in multiple points of the network and is designed to support simplified fiber-optic network designs that reduce time, cost of provisioning, and upgrades, Clearfield says.

"Based on our proven plug-and-play components, this new box is designed to make it easier for those that need to deliver secure high-bandwidth services," explained Johnny Hill, chief operating officer for Clearfield. "The craft-friendly ZoneBox is ideal for many applications including PON architectures as it can be used as a transition point inside of buildings that can be sub-floor mounted, ceiling mounted, or screwed to the wall. When running fiber to the desktop or enterprise network, the ZoneBox is used to break out the distribution cable into dual drops to the desktop."

The FieldSmart ZoneBox is a small base-box that includes trim kits for ceiling applications that make the box unobtrusive. Meanwhile, adjustable brackets accommodate various floor tile systems. It supports scalability from 12 to 144 ports, uses Clearfield's Clearview Cassettes, and is preloaded for patch only or patch-and-splice applications.

The ZoneBox features rear access to cassettes and a solid enclosure design to protect slack storage and fiber terminations.

Clearfield says the FieldSmart ZoneBox is GR-326, GR-20, and GR-409 compliant and supports all industry standard singlemode and multimode fiber-optic connectors. The FieldSmart ZoneBox is now shipping and available from Clearfield or Clearfield's distribution partners.

For more information on fiber connectivity products and suppliers, visit the Lightwave Buyer's Guide.