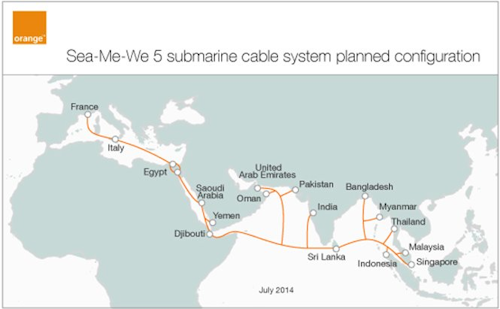 Orange says it will co-finance Sea-Me-We 5 (South East Asia-Middle East-Western Europe 5), a new submarine cable that will link France and Singapore. Plans call for Sea-Me-We 5 to connect Singapore, Indonesia, Malaysia, Thailand, Myanmar, Bangladesh, Sri Lanka, India, Pakistan, Oman, the United Arab Emirates, Yemen, Djibouti, Saudi Arabia, Egypt, Italy, and France.

The international consortium behind the undersea cable system, of which Orange is now a member, plans to start operating the new 20,000 km-long fiber-optic cable at the end of 2016. Contracts for its construction were awarded earlier this year (see "SEA-ME-WE 5 consortium issues construction contracts").

Orange says that its signature on the construction and maintenance agreement for the new system signals its willingness to reinforce its presence on the Asia-Europe network route. Orange is also co-owner of three other submarine cables that run between Asia and Europe: Sea-Me-We 3, Sea-Me-We 4, and IMeWe, which were launched in 1999, 2005, and 2010, respectively.

In addition to providing extra capacity for Orange customers, the Sea-Me-We 5 cable provides Orange with an alternative route that guarantees the protection of voice and data traffic passing through the other cables in the area. Moreover, thanks to the interconnection point in Djibouti, Orange can open up a new route towards the Indian Ocean to support the growth of broadband services in the islands of Reunion and Mayotte.

In France, the Sea-Me-We 5 cable will use a point of presence located in Orange's telecommunications network group in Marseilles (Bouches du Rhône department). The connection will be established via a terrestrial cable running from the landing station, which is located nearby in the Var department. By diversifying points of access, the new cable will improve access to international broadband networks and will facilitate access to networks in France for Asian and African operators, Orange says.

The cable design is based on the latest 100G technology and will initially offer a capacity of 24 Tbps. In addition, the cable benefits from an advanced DWDM system that enables cable capacity to be increased without additional submarine work. This means that the consortium will easily be able to increase capacity to reflect the latest technological developments, Orange says.

For more information on high-speed transmission systems and suppliers, visit the Lightwave Buyer's Guide.