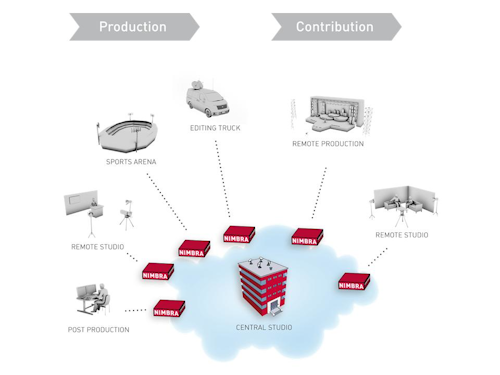 Only a few years ago, remote production seemed like a distant reality unlikely to make any headway before the 2012 Olympics. However, recently it has become more accessible, and it's now time for the outside broadcast van (OB) to start worrying about the future of its existence. Fiber networks are becoming more commonplace in arenas and media environments, and are slowly transforming production workflows, especially for live events.

Last year at IBC 2011, one of the best demonstrations of remote production workflows involved TeliaSonera International Carrier and technical production provider Twentyfourseven, using a new Distant Outside Broadcast (DOB) workflow for live events. The demonstration saw four uncompressed HD feeds on TeliaSonera International Carrier's Media Connect platform from The Royal Tennis Club in Stockholm sent 1500 km to an IBC production team in Amsterdam. For this demonstration to work, the production desk had to remotely control arena equipment such as cameras, sound, and speaker equipment from a centralized production suite.

As operators upgrade their networks to sell broadband connectivity for media-rich add- on services, they are finding a lucrative opportunity in providing lines for pure media production. Yet the ability to deliver high-quality video transport is paramount to enable these production houses to shave costs, without compromising live broadcast feeds.

Understandably, media production houses are still apprehensive about launching into remote production schedules due to the perception that the networks are temperamental in supporting live, uncompressed feeds, compared with sending uplinks via satellite -- a proven and tested method. Communications service providers must present a convincing business case to convince decision makers to invest in transforming their current models into next-generation remote workflows.

No limits via fiber
From a technical standpoint there are no limitations to remote production via fiber networks. The only requirements are to have both the network capacity and the network element equipped to handle as many cameras as you want and studio-quality transport from the media networks.

The only real concern is delivery of the content over the network, and it's therefore essential to be able to offer a 100 percent guarantee of service that ensure no hindrance to the quality of the broadcast or how the content is produced. The new type of workflow needs the support of a high quality, real-time network to avoid degradation of the feed and enable the production crew to remotely control the arena equipment without any delay (see figure below). Without the high-quality real-time network that provides low delay and lossless routing, remote production is impossible.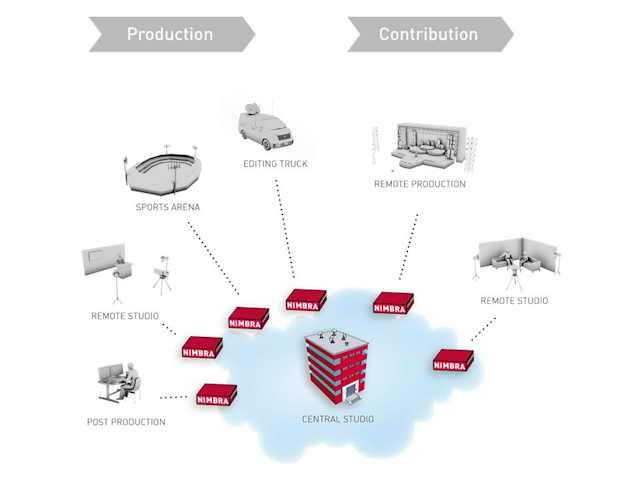 With the right network, anything is possible. For example, in live sports we have already seen remote production methods used during the 2010 FIFA World Cup in South Africa. A North American broadcaster was able to extend its national backbone in South Africa due to its investment in technology that would guarantee 100 percent quality of service, low latency, and zero packet loss. With this assurance, it allowed both the local production team to access content and material in the U.S. as well as the post-production personnel in the U.S. to access content in South Africa in real-time. Thus was created a seamless workflow over thousands of miles. The same network was used to distribute the live feeds back to both U.S. and Latin America.

Such success stories are increasing in number within the broadcast industry, but for the time being a production crew will most likely want to be around for the major events to ensure that camera control is running smoothly, as issues related to remote handling still occur. Camera crews are thus probably needed in Tier 1 events for the next few years -- but production crews are more easily situated remotely, which is already evident today.

Those who invest in remote production will benefit from the cost savings associated with centralizing production to the main facilities. All in all, this will reduce cost and increase efficiency in editing and production. The fiber network is a real alternative to satellite, where gaining access to capacity can be a challenge.

But the benefit is not only related to cost savings; it is also possible to cover a larger number of live sports/musical events since the content production is less costly due to new technology. This will allow broadcasters to offer customers coverage on Tier 2/3 live events, such as regional sports events and minor leagues.

The OB industry needs to pay attention to the reality of remote workflows that will revolutionize the way in which content is produced, removing the need for onsite personnel and OB equipment. Furthermore, with costs becoming more of an issue for many media and broadcast companies, the revolution may creep up sooner than expected, with the London 2012 Olympics being a great example of how broadcasters are starting to use these remote capabilities for Tier 1 events.

Per Lindgren is founder and vice president of business development at Net Insight.