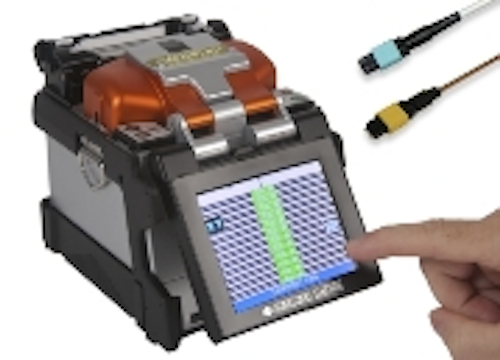 Sumitomo Electric Lightwave (SEL) has unveiled the second member of its Quantum Splicer line. The Quantum Type-Q101-M12 Dual-Heater Mass Fusion Splicer will accommodate 1 to 12 fibers and is designed to provide improved MPO fiber-optic connector application functions, including upgrades in speed, performance, and efficiency.

For example, the Quantum Mass fusion splicer offers automatic clamp force adjustment and real-time clamp force calibration, which SEL asserts are industry firsts. The features minimize fiber-to-fiber offset when ribbonnizing loose tube fibers or splicing on MPO connectors on round cord loose tube cables, the company says.

Also the Quantum Mass fusion splicer offers a typical splice time of 14 seconds and 55 second heater cycle time. It can perform a 12-fiber splice in fewer than 70 seconds, SEL asserts.

A fully functional touch-screen interface is designed to make splicer function navigation more intuitive, faster, and easier. However, the Quantum Mass splicer offers both touch-screen and keypad interfaces.

The new splicer also features Internet remote maintenance, an SD port for what SEL terms "virtually unlimited data storage," and the ability to download and upload work-related splicing project data, training videos, audio, and software.

The splicer's display offers a 640 x 320 fiber view in a small package (4.72 w x 6.06 d x 4.96 h in inches) that weighs 2 kg. The system also offers the longest electrode life, as well as stringent shock, waterproof, and dust resistance design, SEL concludes.

The Quantum Mass fusion splicer is compatible with the Lynx2 CustomFit Splice-On Connectors for customized, on-site cable builds and terminations. Orders and shipping for the unit will begin January 2013.

For more information on splicing equipment and suppliers, visit the Lightwave Buyer's Guide.