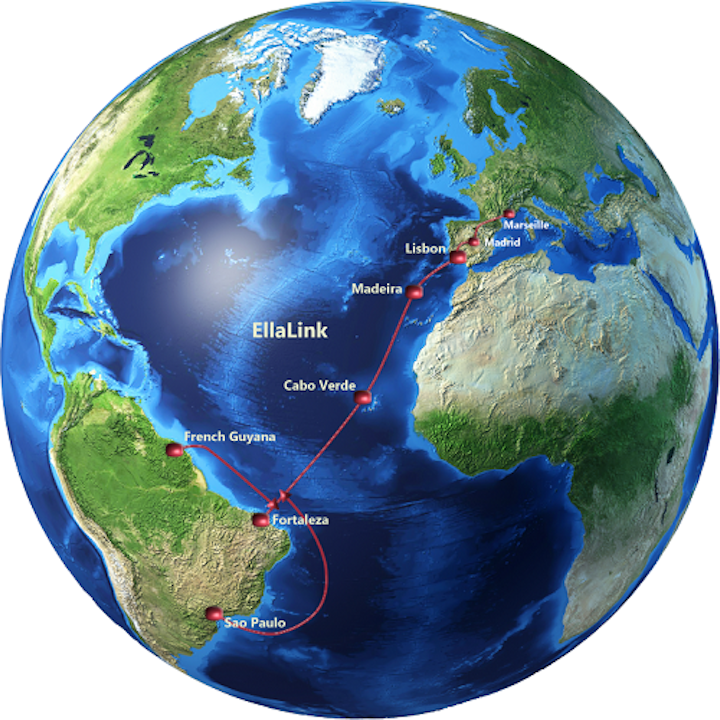 EllaLink Ireland and contractor Alcatel Submarine Networks (ASN) say that construction has begun on the EllaLink Submarine Cable System that will connect Europe and Latin America. The four-fiber-pair submarine network should be operational in 2020.
The EllanLink undersea cable will link Madrid, Lisbon, and Marseille in Europe and Fortaleza and São Paulo in Brazil (see "EllaLink nears €25 million contract from GÉANT and RedCLARA for capacity on submarine network"). Marguerite II, a European investment organization that includes European Investment Bank, is an investor in the submarine network project.
"It gives me great pleasure to announce this significant milestone for EllaLink. Since the initial idea in 2010, interest in the route has grown significantly. Together with our financial sponsor Marguerite II and key anchor tenants the EllaLink team has worked alongside ASN to design a high capacity system on the most optimum marine route. Many people have contributed towards making this system real, my sincere thanks go to each of them," said Alfonso Gajate, chairman of EllaLink's board. "As implementation activities commence EllaLink will continue to focus on its primary objective of providing leading products and services on a carrier neutral and open access basis."
"The EllaLink System is a very good fit for Marguerite's ICT infrastructure investment strategy which focuses on developing darrier neutral and open access infrastructure operators," added Laurent Chatelin, managing director of Marguerite II. "EllaLink represents an important first step into the subsea cable market for Marguerite. Working with the EllaLink team during the development phase to reach Contract in Force is a great achievement and we are looking forward to supporting EllaLink over the next phase of its development and the build of the system."
For related articles, visit the Network Design Topic Center.
For more information on high-speed transmission systems and suppliers, visit the Lightwave Buyer's Guide.