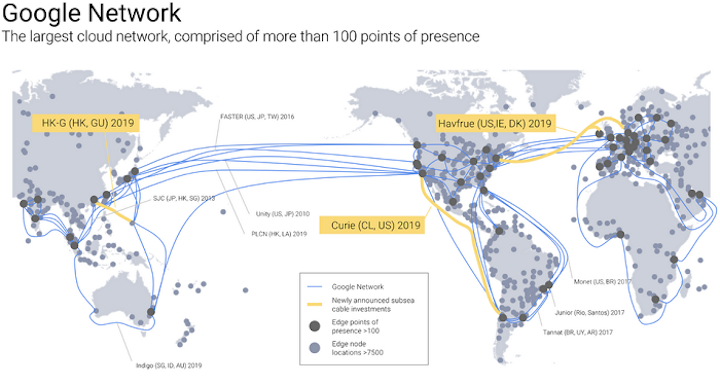 Google says deployment of its Curie submarine network has completed with the landing of the submarine cable in the Playa Ancha area in Valparaiso Region of Chile. SubCom handled deployment of the undersea cable, which will connect Chile with California. The California landing will leverage the Equinix LA4 International Business Exchange (IBX) data center in El Segundo. Google did not reveal when it expects the system to be operational.
Google announced plans for Curie in January 2018 (see "Google details submarine network investments"). The four fiber-pair system traverses more than 10,000 km and was designed to enable a potential future branch to Panama. Curie, the 13th submarine cable system Google has funded, is part of a cloud capabilities expansion effort that has seen the company spend $47 billion on data centers and submarine cables worldwide between 2016 and 2018. "Google ́s network is a critical part of our infrastructure, enabling us to process immense amounts of information, in real time, to host some of the most demanding services in the world and to deliver content with the highest levels of availability and efficiency," said Jayne Stowell, senior strategic negotiator of Google Global Infrastructure Group.
"Google and SubCom's consistent teamwork allowed for mitigation of potential risks to the Curie cable system project schedule, enabling early completion of the Valparaiso landing," noted Chris Carobene, vice president of marine services and network construction at SubCom. "We look forward to continued collaboration on future projects."
For related articles, visit the Network Design Topic Center.
For more information on high-speed transmission systems and suppliers, visit the Lightwave Buyer's Guide.