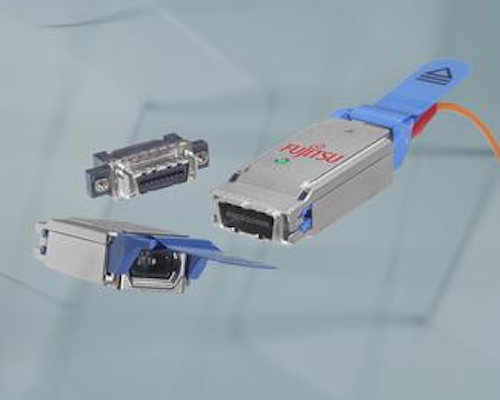 February 23, 2006 Sunnyvale, CA -- Fujitsu Components America has released a 4-channel, copper-to-fiber media converter that the company says extends optical bandwidth transport of 12.5 Gbit/sec to a maximum distance of 300 m with low-power dissipation when used with a media detect circuit. The company says the device allows IT managers to use a single, compact I/O interface through a single port for either copper or optical signal transmission.
The company says its FPD-010R008-0E media converter significantly increases the link distance beyond the 15 m provided by 4x copper cable for Fibre Channel, InfiniBand, and IEEE CX4 transmissions. The company says the converter is designed for a wide variety of internal and external connections found in data centers, telecommunications systems, high-speed routers, switches and transmission equipment, as well as in high-performance medical and test equipment.
The device features 4-channel, full-duplex Multipath Optical (MPO) ribbon cable assemblies using 50/125-µm cable rated at 500 MHz km. It also features symbol rates up to 3.125 Gbit/sec per channel at 100 m and 2.5 Gbit/sec per channel at 300 m, a typical power dissipation of 0.8 W, a case operating temperature range from 0° to +70deg;C, and power- and error-indicating LEDs.
The device contains four independent VCSEL transmitters and four independent receivers. The hot-pluggable module mates directly with the company's industry-standard micoGiGaCN differential copper I/O connector and other industry-standard MDI electrical sockets as defined by InfiniBand, T11.3 10G Fiber Channel, and 802.3ak 10G Ethernet CX4. Fujitsu says the device also works seamlessly with its XAUI¿based 10-Gbit Ethernet copper XENPAK and X2 CX4 modules and other industry-standard MDI electrical sockets for CX4, InfiniBand, and Fibre Channel.
Available immediately, the FPD-010R008-0E optical transceiver module is priced at $465 in 10-piece quantities. The MPO ribbon fiber cable assemblies are available in cable lengths of 1 m to 300 m.