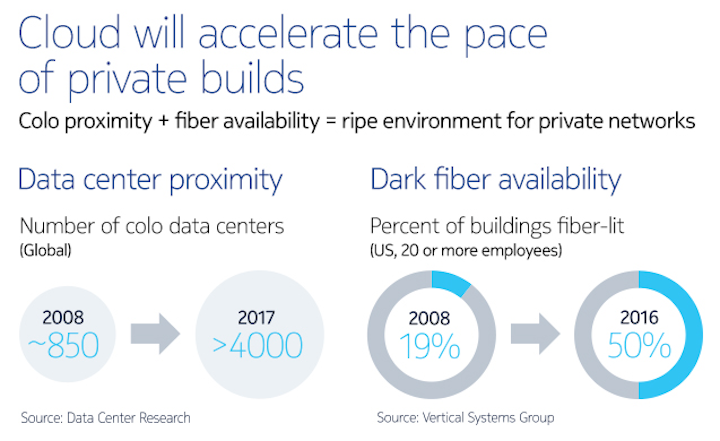 Digital tools can transform enterprises, yielding significant improvements in how information is used, creation of market-based solutions, and establishing collective intimacy. The effect of digital tools in modern enterprises is described in Joe Weinman's book Digital Disciplines: Attaining market leadership via the cloud, big data, social, mobile and the internet of things. Enterprises that embrace analytic computing, mobile and machine-to-machine connectivity, social media, and cloud storage can make rapid decisions, operate more efficiently, reach new markets, and better serve their customers. Organizations can reduce operating cost while improving top-line revenue or constituent services. Sometimes called the SMAC (social, mobile, analytics, and cloud) stack or third-platform technologies, leading enterprises realize that digital tools should be embraced as a strategic imperative rather than avoided as a troublesome cost.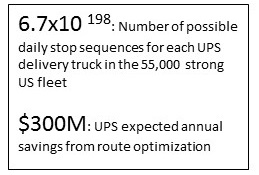 One example is the adoption of cloud computing by UPS. Recognizing that delivery trucks vary their routes based on daily deliveries, UPS sought to reduce fuel consumption and improve delivery time through route optimization. In the U.S., each of the company's 55,000 trucks make an average 120 stops per day, often crossing over other routes. After implementing cloud-based route optimization, UPS expected to reduce annual fleet operating cost by over $300 million in 2016.
Other examples abound across industries and public-sector agencies. For instance, many regional governments operate systems to inform motorists of impending weather and existing traffic conditions using highway road signs and mobile device applications. More advanced systems also perform full-speed highway toll collection, including weight-based toll collection. Meanwhile, medium-sized enterprises are using virtualized cloud storage to collect data for later monetization in ways initially unexpected. For example, DNA analysis firm 23andMe charges consumers for profiles that predict pre-disposition to various maladies. After several years in business they found their customer data had other value and realized revenue through sales of compiled records to research institutions analyzing trends in the human genome.
The common thread: connectivity among distributed users and machines. As enterprises come to rely upon digital tools, their connectivity needs increase among offices, data centers, and cloud resources. Meeting these needs is difficult using a traditional service provider's shared network. Enterprises now need connectivity with a high degree of flexibility, scalability, and security. They need to be able to adapt quickly to the unique, changing needs of their business and do so economically. That's why many enterprises now rely upon private optical networks.
What is a private optical network? And why are they suited to an enterprise?
In a private optical network, the enterprise owns packet-optical transport equipment, most often connected to leased dark fiber. In some areas where fiber is not available or is too expensive to access, or where there are lower bandwidth needs, leased services can complement the private optical network. These private optical networks offer the enterprise an optimal combination of control, agility, and economy.
Once a daunting task, implementation of private optical networks is now more practical. During the eight years from 2008 to 2017, the estimated number of collocation data centers has grown from 850 to 4000, globally. At the same time, fiber-lit buildings in the U.S. exceeded 50%. Together, proximity to data centers and the increasing availability of dark fiber is accelerating the adoption of private optical networks.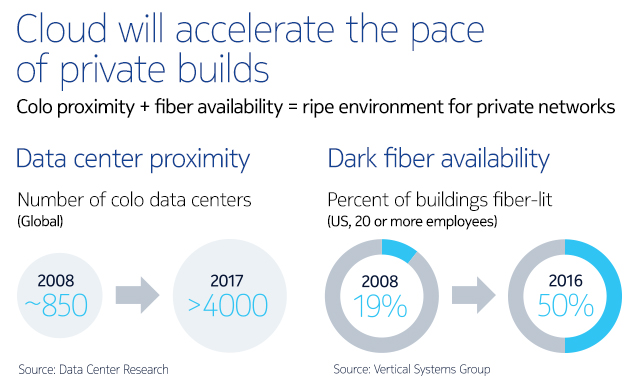 At one time, it was acceptable to place an order for phone or data service and wait weeks for activation. Today, enterprise connectivity needs are fluid and quickly changing and must be closely linked to the enterprise's operations. An enterprise can construct a network to satisfy its need for control and do so with an attractive return on investment. Selection of fiber infrastructure, optical transport systems, and supporting technologies are variables that determine the enterprise's financial return.
Navigating the private optical network decision can be generalized into considering:
Risk tolerance: While an enterprise gains great control with a private optical network, it also takes on all the risk. The choice to use a systems integrator to design and build the network mitigates some risk.
Scalability and performance: These can be more easily managed in a private optical network. Enterprises expecting wide ranges in capacity or application diversity may favor private networks.
Service responsiveness: Frequent changes to work locations or satellite operations demand high service responsiveness. In a private network, responding to changes becomes faster as the network's sole tenant can more easily raise priority.
Capital culture: This factor involves an organization's willingness to spend funds on capital expenses as opposed to operational expenses. Smaller, less capitalized enterprises may favor month-to-month purchase of services to preserve cash while others may favor investing cash to save on operational expense.
Human resources: Operating a private optical network implies that the enterprise retains expertise either through direct staff or outsourced IT support.
With these considerations in mind, the enterprise can decide to either purchase services through a traditional service provider over a shared network or construct a private optical network. When building a private optical network, an enterprise will seek to minimize complexity to make it easier to commission and operate. Typically, connectivity will be provided by leased dark fiber in a point-to-point topology. Construction and operation of the network can be done in several ways. Enterprise staff can be used to procure, construct, and operate the network. Alternatively, a systems integrator can be contracted for this work, with network ownership retained by the enterprise. Or a traditional service provider can offer a private network as a managed service. The method selected should be aligned with the unique needs of the enterprise and its network strategy.
Private optical networking equipment should be small form factor, reducing rack space while minimizing power consumption and wiring. The equipment should support enterprise needs without stranding chassis space or requiring the enterprise pay for unnecessary features. Network operation should be simple, without need for remote management systems. The overall infrastructure must be resilient to failures and secure from intrusion.
While some larger enterprises and multi-agency government entities will find value in building shared networks using traditional optical transport systems, many enterprises will find that building a private optical network using a simple, modular disaggregated approach offers the right combination of control and financial return. As a result, they will be ready to fully exploit digital disciplines on the path towards enterprise excellence.
Chris Janson is product marketing manager, optical networking, at Nokia. His role requires that he follows trends in optical networking technology and their application to finance, healthcare, utilities, government, and educational customers. Janson also serves on the boards of directors of the Rural Telecommunications Congress and the non-profit OpenCape Corp.