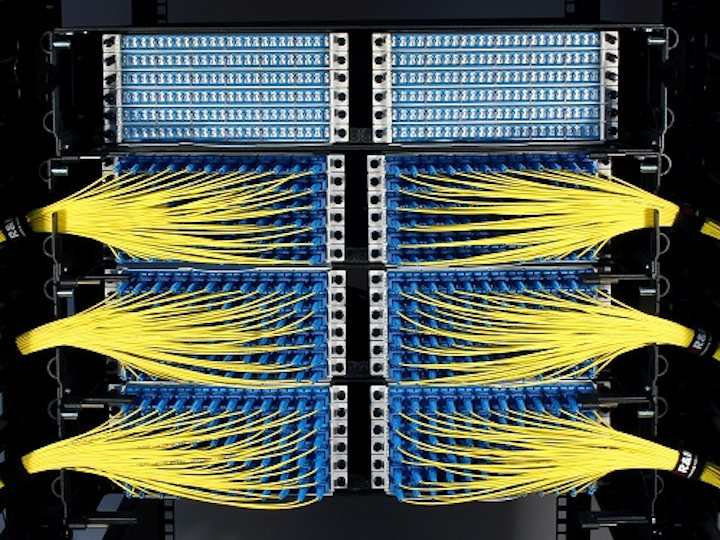 R&M USA, the U.S. arm of Swiss fiber cabling and related technology supplier Reichle & De-Massari AG, says it is now marketing the Mercury line of fiber patch panels. The Mercury platform offers high density and scalability to enable space optimization, efficiency, and flexibility, the company says.
The Mercury patch panel system can house up to 288 LC terminations per 2RU. The units are stackable in either 2RU or 6RU steps and can support up to 6,912 LC fiber terminations per rack. The unit is designed to be paired with ribbon fiber; a 200-μm fiber option can enable a savings of as much as 30 in duct space, R&M USA adds.
The Mercury fiber patch panel features integrated dust shutters that can save testing and commissioning time, and a structured 1:1 ratio from the cable design, through the splice drawer in the rear and the patch area in the front. The units also offer a large slack area in the rear for slack storage.
Quality control features include paperless access via QR code. Each shroud is numbered using bead markers, pull-out charts, and wrap-around labels. Each shroud houses 24 LC terminations and two fan-out kits for the 200-μm or 250-μm bare ribbon fibers.
"R&M developed Mercury to address the need in the United States for ever increasing need for additional fiber connections, duct space optimization and flexibility," said Dieter Studer, marketing manager, R&M USA Inc. "Mercury allows R&M's U.S. customers to expedite their data center projects with minimized installation time in the secured zone, and to scale when needed with seamless installation of additional panels."
For related articles, visit the Data Center Topic Center.
For more information on patch panels and suppliers, visit the Lightwave Buyer's Guide.