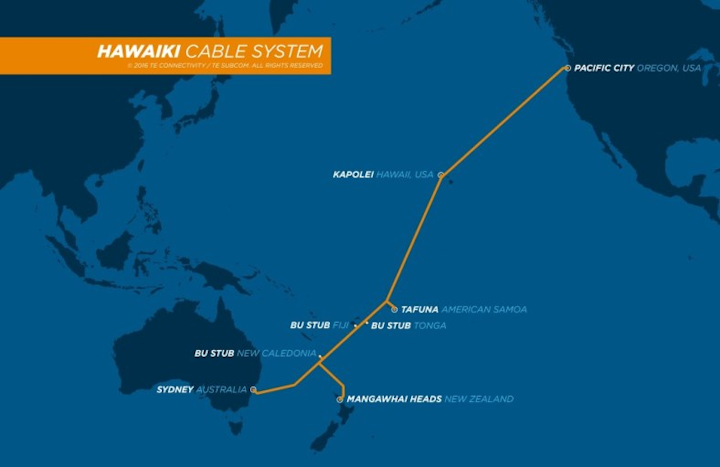 Hawaiki Submarine Cable LP and its contractor partner, TE SubCom, a TE Connectivity Ltd. company, say deployment of the transpacific Hawaiki has surpassed the halfway mark. The 15,000-km undersea cable should be ready for service in June 2018, the partners say.
The team has completed several milestones so far:
The FCC granted the necessary license this past December.
TE Subcom deployed the US domestic segment between Oregon and Hawaii in the last quarter of 2017.
Deployment of the international segment between Australia, New Zealand, and Hawaii began in early November 2017.
Cable landings in Pacific City, OR; Oahu, HI; and Sydney, Australia have been completed. XSite Modular, a designer and builder of modular cable landing stations (MCLS) and associated buildings for the submarine network industry, was awarded the contract to build the Oahu cable landing station. Flexential (formerly Peak10 + ViaWest) is supplying the point of presence for the cable landing station in Oregon (see "Hawaiki Submarine Cable taps Peak 10 + ViaWest's Brookwood data center for U.S. PoP").
Looking forward, the Hawaiki group expects to complete the cable landing in American Samoa this March. TE SubCom's cable-laying vessel CS Responder is in Auckland, in preparation to begin marine activities for the New Zealand leg later this month. Such activities will include the landing of the submarine cable in Mangawhai Heads (see map above).
"The start of 2018 finds Hawaiki closer and closer to ready for service," said Remi Galasso, CEO of Hawaiki. "Landing the cable in its home country represents a major event for our team and I would like to take this opportunity to thank all our New Zealand partners for their continuous support. Hawaiki will bring huge benefits to New Zealand in terms of greater connectivity to Australia and the U.S., security of supply, diversity, and increased business opportunities for the telecom and IT industries."
The carrier-neutral Hawaiki submarine cable network will have an initial design capacity of more than 43 Tbps. Amazon Web Services has already signed a capacity supply agreement (see "Amazon Web Services signs with Hawaiki Submarine Cable").
For related articles, visit the Network Design Topic Center.
For more information on high-speed transmission systems and suppliers, visit the Lightwave Buyer's Guide.