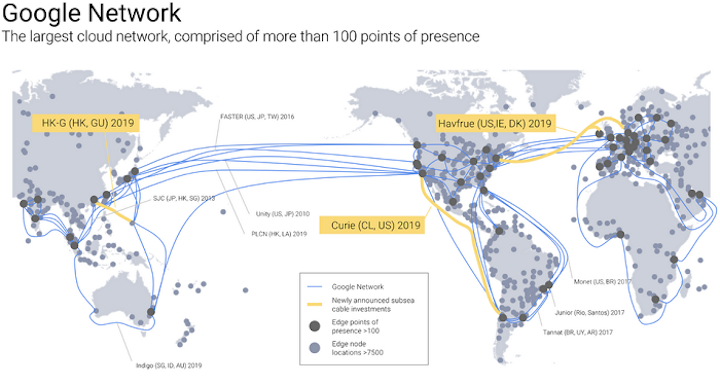 In a blog posted today by Ben Treynor Sloss, vice president, 24x7, Google has announced it will fund construction of three submarine cable networks to support its Google Cloud Platform business. The three networks – the Curie Submarine Cable, HAVFRUE, and the Hong Kong-Guam Cable systems – should be online next year, Google expects.
The Curie Submarine Cable will run from the U.S. to Chile – Los Angeles to Valparaiso, Chile, specifically, according to TE Subcom, which announced it will design, deploy, and launch the system. Google will be the sole backer for the undersea cable, which it says makes it the first major non-telecom company to build a private intercontinental cable. The four fiber-pair system will span over 10,000 km and be designed to enable a potential future branch to Panama, TE Subcom says.
HAVFRUE will connect the U.S. (via a landing in New Jersey) with Ireland and Denmark (see "HAFVRUE consortium targets transatlantic submarine cable system"). Other investors include Facebook, Aqua Comms, and Norwegian real estate company Bulk Infrastructure. TE Subcom will supply the optical transport equipment for this submarine network as well, which will have an initial design capacity of 108 Tbps.
Google will collaborate with RTI-C and NEC on the Hong Kong-Guam Cable. The system was announced in April 2017 (see "RTI-C, NEC launch of Hong Kong-Guam submarine cable construction"), but this is the first time Google has acknowledged its participation in the project. The company expects the new system, alongside existing submarine cables such as Indigo, to improve the performance and resiliency of services to Australia as well as Asian destinations.
Google says it has made direct investment in 11 cables, including those planned or under construction, as detailed in the table below (Source: Google):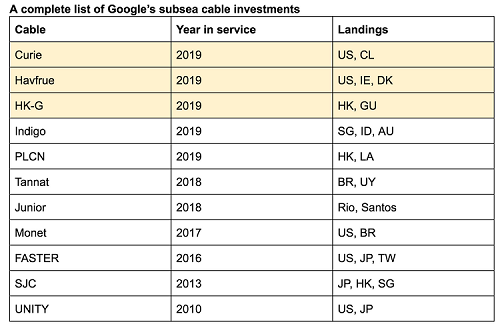 The company also leases capacity on other systems.
For related articles, visit the Network Design Topic Center.
For more information on high-speed transmission systems and suppliers, visit the Lightwave Buyer's Guide.