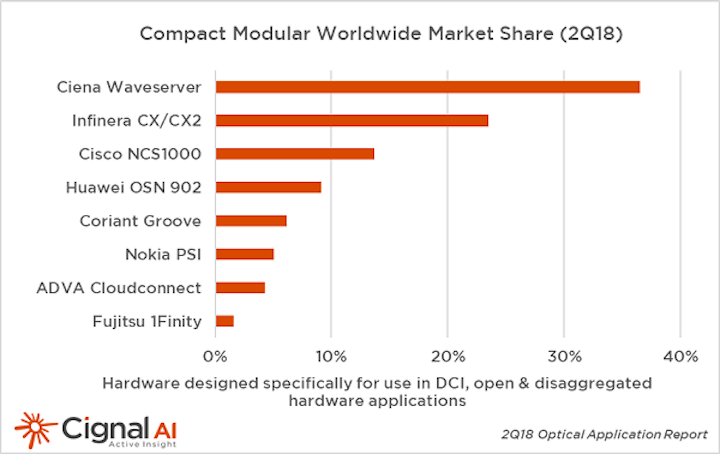 The speed of the switch from coherent 100 Gbps wavelengths to higher transmission rates has led market research firm Cignal AI to raise its predictions for 200- and 400-Gbps coherent port shipments this year in its latest "Optical Applications Report." The move comes with a complementary cut in the coherent 100-Gbps forecast.
"Operators are rapidly adopting second and third generation coherent technology as they seek to lower their cost per bit and achieve better performance. This has resulted in higher than expected demand for 200G and 400G speeds this year, at the expense of first-generation coherent," said Andrew Schmitt, lead analyst for Cignal AI. "Compounding this trend is the growing adoption of 200G CFP2-DCO modules, which allows coherent technology to integrate with switches and routers more easily than earlier solutions."
Cignal AI reports that Ciena's coherent 400G port shipments were "doing well" in the second quarter of 2018 against a backdrop of overall optical network hardware sales declines (see "EMEA 2Q18 optical systems spending up, North America down: Cignal AI" and "Optical systems sales struggle in Q2 2018: IHS Markit"). The market research firm notes that 400G capabilities based on DSPs from Acacia Communications, Huawei, Nokia, and NTT Electronics should reach the market within the next six months to provide operators with additional options.
Meanwhile, another segment that was "doing well" in the second quarter was compact modular equipment, which primarily finds use in data center interconnect and other open, disaggregated applications. Sales of such platforms are on pace to exceed $1 billion in revenue this year, says Cignal AI in its new report. While Infinera was the first to market in this category with its Cloud Xpress platform, Ciena has ridden its Waveserver platform to the top market share spot (see chart above). Ciena and Huawei are the fastest growing competitors in this segment, Cignal AI reports. Nokia also is picking up steam, says the market research firm.
Finally, incumbent network operators interest in using packet-OTN switching hardware offered another bright spot during the quarter. Sales of such hardware in North America grew 30% year-over-year, thanks to deployments by Verizon and other large incumbent carriers. Cignal AI also saw significant growth in packet-OTN deployments in EMEA and India, where Nokia has gained significant market share.
Cignal AI's quarterly "Optical Applications Report" offers forecasts in three markets: compact modular equipment, advanced packet-OTN switching hardware, and 100G+ coherent WDM port shipments. The report features revenue-based market size and share for each hardware category and port-based market size and vendor market share info for 100G+ shipments.
For related articles, visit the Business Topic Center.
For more information on high-speed transmission systems and suppliers, visit the Lightwave Buyer's Guide.