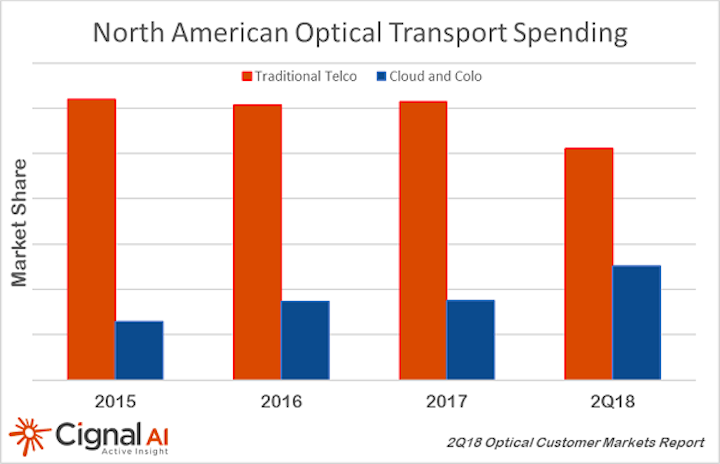 Showing a 180-degree reversal from this time last year (see "Cloud and colo optical spending takes a 1H17 dive: Cignal AI"), members of the cloud and colocation market enthusiastically purchased optical network systems in the second quarter of 2018, according to Cignal AI. The market research firm states in its most recent "Optical Customer Markets Report" that such companies spent at record levels during the quarter. While such companies still represent only a small slice of the global optical hardware market, firms such as Google, Microsoft, and Amazon accounted for nearly 25% of North American optical systems sales during 2Q18.
"While cloud and colo spending is still not near traditional telco demand for optical transport equipment, the balance is shifting. This is particularly true in North America, where cloud and colo operators now provide both technical and financial leadership to the supply chain," said Andrew Schmitt, directing analyst at Cignal AI.
Ciena benefited most from this trend, taking the top spot in this niche due to the popularity of the company's WaveServer platform. Infinera moved into second place, thanks in part to its recently closed acquisition of Coriant. Not surprisingly, Cignal AI reports that Huawei is doing well in this space in China with sales to Baidu, Alibaba, and Tencent.
Nevertheless, as Schmitt points out, incumbents continue to compose the largest customer demographic – with incumbent spending in China equal to that of all other regions combined. Cignal AI reports that the Europe/Middle East/Africa (EMEA), a laggard for several years, saw spending pick up in the quarter. North American cable MSOs also picked up their outlays, both quarter-over-quarter and year-over-year.
The quarterly "Optical Customer Markets Report" covers optical equipment sales in five customer markets – incumbent, wholesale, cable MSO, cloud and colo, and enterprise and government. The latest report includes results through 2Q18 and details equipment vendor market share for sales to cloud operators. The report also offers updated regional forecasts, based on expected spending trends by customer market.
For related articles, visit the Business Topic Center.
For more information on high-speed transmission systems and suppliers, visit the Lightwave Buyer's Guide.