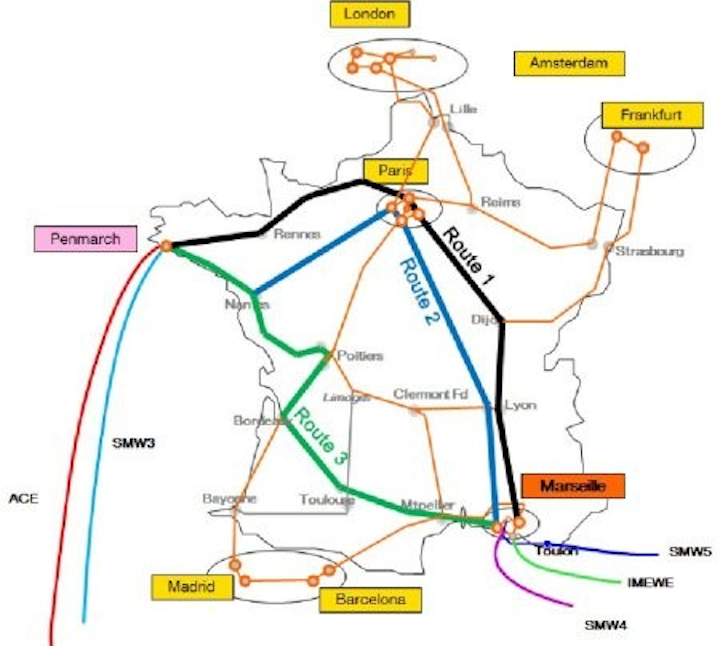 French service provider Orange says it is building on the 2017 launch of its Marseille hub to upgrade network connectivity by providing a direct link between Marseille and Penmarch. The direct interconnection provides advanced service, redundancy, and security by linking existing submarine cable routes from Asia, the Middle East, and West Africa, Orange asserts.
Based on 2017 – 2023 bandwidth growth projections, volume between these regions is forecast to increase by up to 10 times. According to Orange, this new link interconnects 15 undersea cables to meet such future demand. On the Penmarch side, the CHLS Sea-Me-We 3 and ACE cables are linked to Marseille and the CHLS Sea-Me-We 4 Saint-Mauront, CHLS India Middle East Western Europe (IMEWE) Bonneveine, and Interxion's MRS1 data center.
Three new routes will become available between Marseille and Penmarch, with each route 1600 to 1700 km long, providing proportionate RTDs of 18 ms. The first route is now operational, with a direct terrestrial connection between the two cities. Delivering redundancy, the second and third route are scheduled to be in service by the end of 2018, Orange affirms. Interconnections are offered in capacities from STM1 to 10G. Protected or unprotected versions are available and can be leased or acquired as IRUs, says Orange.
"Thanks to the new terrestrial connection developed by Orange between Marseille and Penmarch, the role and importance of Marseille as a gateway between Europe and Africa, the Middle East and Asia is enhanced," said Mike Hollands, Interxion's director of market development and strategy. "Our customers in Marseille can now directly connect to Western Africa via the ACE subsea system, bringing to over 40 the number of countries that are connected via subsea cables to Marseille. This is a significant added value for the community of interest in Interxion's Marseille data centers."
In July of 2017, Interxion constructed the new data centers in Marseille (MRS2), and in Frankfurt (FRA13), and further expanded its Vienna data center (see "Interxion plans cloud platform expansion with new European data centers").
For related articles, visit the Data Center Topic Center.
For more information on high-speed transmission systems and suppliers, visit the Lightwave Buyer's Guide.