Enabling migration to a new generation of packet-based services
Aug 1st, 2001
New IP solutions are uniquely designed to help service providers migrate current services to a packet-based world.
Randy Ottman, Tenor Networks
Today's service providers face the difficult challenge of managing multiple overlay networks that were not designed to accommodate the revenue growth projected for the services currently sold. They need a solution that will scale their current infrastructure and preserve the service levels sold to end users.
It is also important that service providers cut costs in the face of intense price competition. Furthermore, they must prepare to capitalize on the emerging IP services marketplace. As a result, carriers are seeking to migrate the existing service experience offered to customers into a packet world.
Telecommunication services are provisioned over three cooperating network platforms: the PSTN, a worldwide confederation of voice networks; the Internet, a worldwide confederation of "best effort" data networks; and the business network of the service provider, a confederation of technologies, including TDM, ATM, frame relay, and IP-all used to deliver multiple service levels, resulting in differential sources of revenue.
It is the business network that yields competitive advantage for the service provider through the precise engineering, tuning, and measurement of the infrastructure to deliver quality of service (QoS) superior to the competition. Differentiated service levels attract and retain valuable corporate customers willing to pay a premium for improved levels of service through technical parameters that minimize loss, latency, and jitter.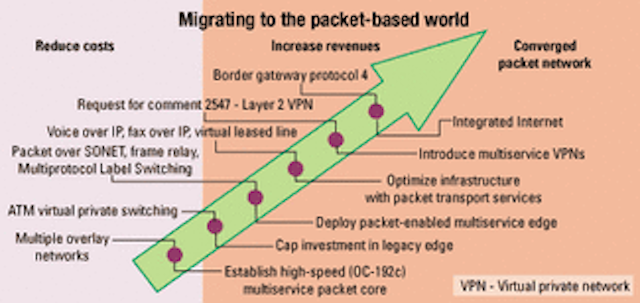 Service providers that manage multiple overlay networks must first establish a high-speed, multiservice packet core that will converge their networks onto a packet-based infrastructure. Next, it is important to cap investment in the legacy ATM and frame relay edge networks in order to limit future investment in infrastructures that do not scale.
Traditional "on-net" services represent the most profitable sources of revenue and are often the key to capturing incremental business opportunities via innovative product bundling strategies. Ac cording to Vertical Systems Group Inc., a Massachusetts-based networking market-research firm, the worldwide market for private line, ATM, and frame relay services-all supported on the business network-will forecast to account for nearly $45 billion by fiscal year 2002.
However, today's business network faces three significant challenges. First, it is burdened with the cost and complexity of supporting multiple overlay technologies to achieve these competitive service levels. Second, the network is built on aging technology that is unable to scale to meet the continued growth in data services. Finally, it lacks the native capability to address future market opportunities involving differentiated support levels for IP services.
It is clear that to sustain a competitive advantage, service providers need to introduce new technologies capable of supporting continued growth for traditional services. At the same time, this technology must enable the transition of competitive service levels from discrete overlay technologies to a scalable packet infrastructure in order to maximize network use and capture new revenue opportunities. These technologies are specifically engineered to help service providers with this critical business and technical transition in a process called service migration.
Service migration presents a compelling business opportunity that merits shifting current services to a packet-enabled infrastructure. Global financial services firm, JP Morgan Chase & Co. (New York City), says IP will grow to dominate backbone capacity and will substitute for legacy circuit switch and packet technologies supporting today's legacy services. According to JP Morgan and McKinsey & Co. consultants, IP-based virtual private networks (IP-VPNs) will grow to nearly $7 billion in service revenue (domestic U.S.) by the year 2005.
IP-VPNs are defined as a closed user group network (point-to-point or multisite), running over a shared service provider infrastructure using the IP protocol to deliver a private network experience to the subscriber. They are technically equivalent to traditional VPN technology, such as frame relay, ATM, and private line.
IP-VPNs offer two compelling advantages over traditional VPN services. First, they support dynamic provisioning of user groups by leveraging the powerful nature of IP's addressing and control mechanisms to add or change site-to-site connectivity. Second, IP has native support for class-of-service selection in the protocol. This support, coupled with the flexible nature of IP, enables applications to consume differentiated service levels and fine-grained capacity through a single, unified application interface supported on millions of desktops and servers in the form of the transmission control protocol/IP protocol.
The absolute size and growth of the IP-VPN market makes this an exciting opportunity. The transfer of market share from traditional VPN services will fuel the growth of IP-VPNs. Given the size of the worldwide market for ATM, frame relay, and private line services, it is clear that a large percentage of the market (>25% in the U.S.) will churn as a result of the adoption of IP-VPNs as a viable substitute service for traditional services.
It is commonly believed that handling variable-length packets at high aggregate band width, while simultaneously ensuring QoS requirements, is nearly impossible. However, advances in silicon technology are opening up new frontiers for packet-based networking. These breakthroughs, coupled with the valuable lessons learned from technologies such as ATM and frame relay, will enable service providers to benefit from the operational efficiency and service flexibility inherent in packet-based networking.
The foundation for implementing multiservice support in a packet core is MPLS and the differentiated services (Diffserv) model. MPLS enables packet networks to apply many of the traffic engineering principles successfully used in ATM backbone networks. In and of itself, MPLS is just another protocol encapsulation. However, the latest use of MPLS entails not only the encapsulation technique, but also the bandwidth-aware routing extensions and path-signaling specifications.
Diffserv provides a model for establishing multiple service levels in an IP network. Enhancements to MPLS and IP routing protocols have enabled the delivery of multiple service levels over an IP backbone using the Diffserv model. Simultaneous with the advancements in protocols, hardware and software technologies have progressed to provide line-rate processing, classification, and forwarding of IP packets at speeds up to OC-192 (10 Gbits/sec), a critical element in achieving differentiated service support.
Given these developments, multiservice IP backbones can be built that classify packets and dynamically aggregate application flows into provisioned service levels. The result is a new packet core that is optimized to handle the demands of data traffic, specifically in terms of performance and scale, while simultaneously supporting the requirements of traditional bearer services.
Migrating services to a packet-based world requires careful consideration with respect to current service revenue. Moreover, the steps that need to be taken depend upon the service provider's business model (see Figure). Service providers that manage multiple overlay networks must first establish a high-speed, multiservice packet core that will converge their networks onto a packet-based infrastructure. Next, it is important to cap investment in the legacy ATM and frame relay edge networks in order to limit future investment in infrastructures that do not scale. These steps dramatically reduce costs for service providers with legacy investments, while preparing them for IP service offerings.
Service providers with legacy investments and emerging carriers that are rushing to be first to market with enhanced services need to establish a multipacket core network that prepares them for introducing new IP service offerings. With a high-speed multiservice packet core in place, service providers can deploy a new generation of packet-enabled, multiservice edge technology as the first step to increasing IP service revenues.
Furthermore, they can optimize the core with the addition of high-capacity packet transport services, such as toll-quality voice-over-IP trunking and virtual leased line services for high-speed router interconnect. They should also consider Layer 2 multiservice VPNs. Finally, service providers can offer integrated Internet services in their portfolio of IP service offerings.
The main objectives of service migration are cost containment, the preservation of current services, and readiness for introducing new IP services. Fortunately, new IP solutions have been uniquely designed to help service providers migrate current services to a packet-based world with specific and tangible business benefits.


---
Randy Ottman is director of product management at Tenor Networks (Acton, MA). He can be reached via the company's Website, www.tenornetworks.com.