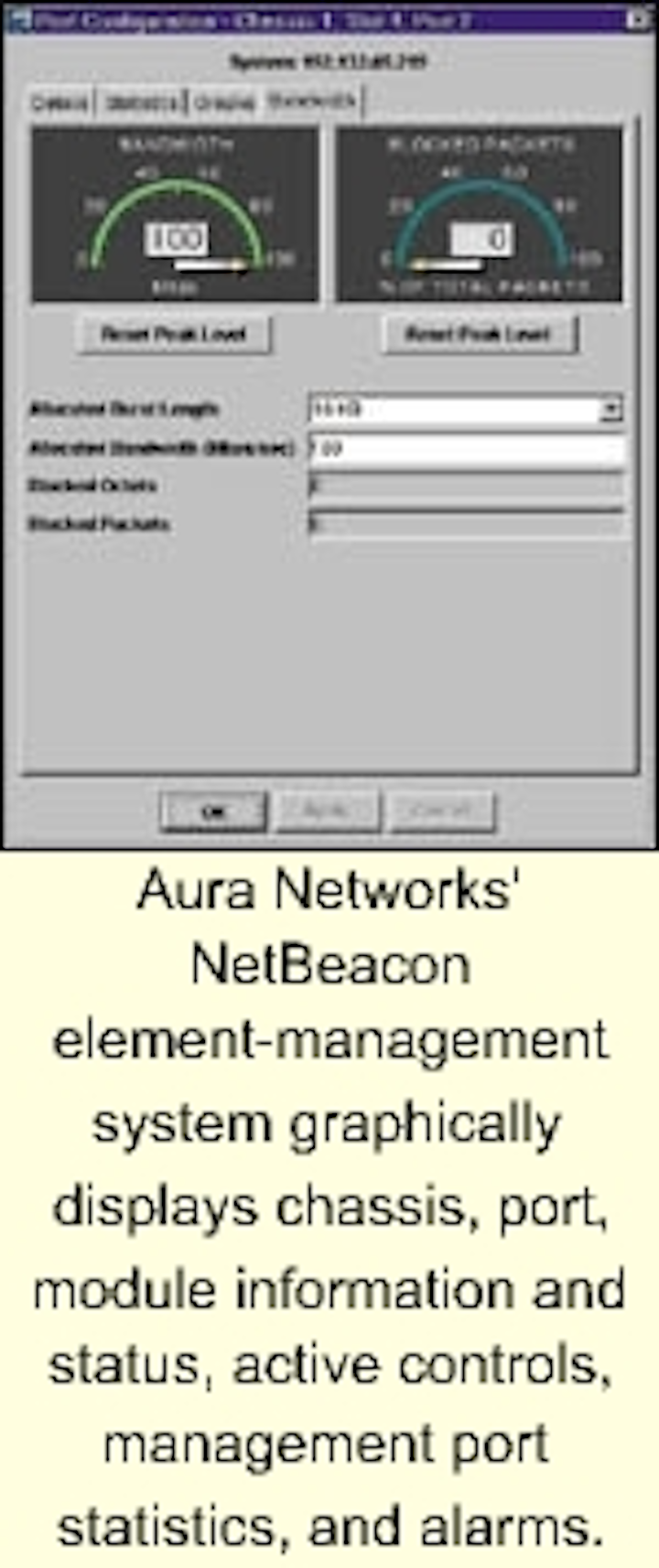 Systems
By MEGHAN FULLER
While most of us were busy making New Year's resolutions we knew we'd never keep, Aura Networks (formerly Lancast-Nashua, NH) had already turned its resolutions into reality, unveiling a new name, a new direction, and a new metro-access solution that harnesses the combined power of Ethernet and fiber optics.
"We're taking [Ethernet] into the metro-access space," explains senior vice president of worldwide marketing, Alan Brind, "and we built new access platforms that are going to address the needs of what we call the new breed of service providers-Yipes, Intelligen, Cogent, and Cypress."
Though Ethernet is predominantly known as a LAN protocol, Aura believes it has potential as an alternative to the traditional frame relay, ATM, and SONET-based metro infrastructure. SONET is both expensive and difficult to provision, say company representatives, and they expect that Aura's Ethernet-over-fiber solution, which leverages the installed base of copper and fiber, will be attractive to the new service providers who may not have the kind of capital that legacy companies have.
David Passmore, research director of the Burton Group (Sterling, VA), also sees Ethernet as an enabling technology for new service providers. In terms of equipment cost and from an operational standpoint, Ethernet is one-fifth the cost of a SONET infrastructure. "Folks like Yipes and Telseon are going to come in and basically 'cream-skim,'" he says. "They are going to steal the best customers from the ILECs [incumbent local-exchange carriers] that right now are providing SONET bandwidth. The new carriers will go anywhere that dark fiber is available."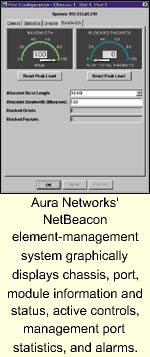 Aura Networks' NetBeacon element-management system graphically displays chassis, port, module information and status, active controls, management port statistics, and alarms.
Aura Networks' proprietary, nonintrusive network-management system, the Stealth IP, provides, among other things, a clear demarcation point between the service provider and the business unit. In order to perform monitoring and maintenance capabilities on fiber lines, a service provider must first connect to a demarcation point, which is typically the enterprise customer's router. Because many of these customers are hesitant to grant the service provider direct access to their router, today's frame relay and ATM networks feature remote dial-up management, but this type of monitoring has proven to be both slow and expensive.
"It is important for the service provider when he provides termination points at the customer premises to have a definite point of demarcation between himself and the end user," says Brind. "It's the only way to establish where the network really ends, and that's where they can really monitor everything from."
From the demarcation point, service providers can perform maintenance and troubleshooting, remotely allocate bandwidth, collect statistics to monitor the health of the link, and graphically evaluate the link through its network-management software.
Driving the design of the Stealth IP is the premise that the reliability of the system can be improved through a reduction in complexity-an idea that is an integral part of Aura's value proposition, says Brind. Situated at the service provider's central office (CO) or point-of-presence (PoP) is Aura's Radiance R5000 Central Service Platform, a 16-slot stackable chassis. On the other end of the link, at the customer's premises, is a two-slot microchassis, the Radiance R1000 Premise Service Platform.
"It's very simple from the local end," asserts Brind. "You can virtually drop a box at the customer's premises and it's just a simple connection: two ends-input and output-and power plugs."
The Premise Service Platform is configured with the same connectivity options as the chassis in the service provider's CO or PoP. Management traffic passes between the end points via Aura's proprietary "quasi-in-band," nonintrusive management channel, located in the interpacket gaps between the Ethernet frames.
"The space between the frames is part of the standard," explains Brind, "but it isn't used by anybody. We're making use of that space to send and receive information from the point-of-presence or the central office to the customer premises. In doing so, we're not going to be making use of any bandwidth the customer actually pays for."
All network administration occurs through NetBeacon, Aura's proactive, Simple Network Management Protocol-based element and service provisioning management system. Because the Net Beacon system gathers management traffic from the Stealth IP packets, it provides configuration updates, maintenance, and diagnostics-all in real-time from the service providers' CO or PoP. The system also features dynamic allocation of bandwidth in 1-Mbit increments with bursts up to 256k, enabling end users to pay only for the bandwidth they use.
NetBeacon measures and monitors the Ethernet parameters-voltages, temperature, link connections and status, port activity and status, and bandwidth-usage statistics-and presents these parameters via the software's Java-based graphical interface. The system also instantaneously alerts service providers via e-mail, pager, or cell phone to any problems that may affect network performance.
Aura has also developed the Web- Beacon, which enables service providers to remotely monitor the Central Service Platform via the Internet. It features the same capabilities as NetBeacon without the graphical user interface.
The popularity of Stealth IP and other products of its kind rests on how reliable Ether net proves to be for metro-access communications and more importantly, how much carriers will have to give up if they abandon SONET in favor of Ether net. SONET protection switching enables 50-msec restoration, which is something that cannot be achieved with Ethernet over dark fiber. While network restoration is a big issue, Passmore does not see it as an insurmountable obstacle.
"Customers today, who are using the metro Ethernet service over optical, don't need 50-msec restoration. Sure, it would be nice, but it's not essential. They are just so happy to get their hands on such fat pipes at such low prices that they are willing to put up with restoral times that today are on the order of seconds rather than 50 msec," he says. This is just the kind of tradeoff companies like Aura Networks are counting on.
Passmore compares the current debate to the ATM-versus-IP wars of the past. "ATM has pretty much lost that battle for the future," he contends, "because it's pretty much an IP world. The new battle has shifted to Ethernet versus SONET." While the victor in this battle remains to be determined, Aura Networks has resolved to back Ethernet.