Fujitsu promotes new class of packet-oriented optical systems
Jun 1st, 2007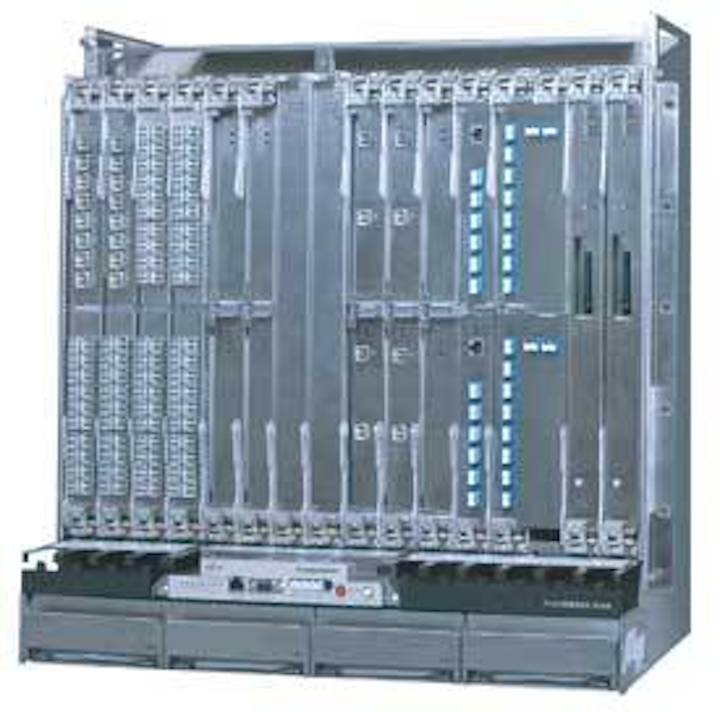 by Stephen Hardy
Network equipment providers have offered a variety of systems to help carriers transition from a circuit-switched, voice-centric network to a more packet-friendly infrastructure. However, even with the advent of multiservice provisioning platforms and the various "god boxes" that attempt to cram as many functions as possible into a single rack of hardware, many carriers continue to operate multiple networks or pair SONET equipment and packet routers in their central offices. This month, Fujitsu Network Communications (http://us.fujitsu.com/telecom) has unveiled what it considers to be a new class of equipment, the Optical Networking Platform (ONP), which it believes represents the current "ultimate" in efficient, packet-centric optical network transport equipment.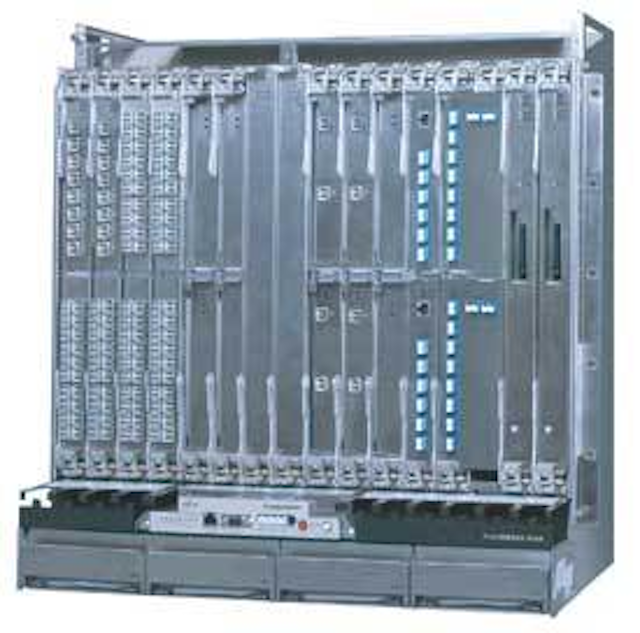 The FLASHWAVE 9500 from Fujitsu Network Communications combines native SONET and Ethernet transport with ROADM capability to create the first Optical Networking Platform.
The Fujitsu FLASHWAVE 9500 platform, the flagship of Fujitsu's new ONP line, provides modular integration of carrier-class Ethernet and SONET transport with reconfigurable optical add/drop multiplexing (ROADM) capabilities into a single system. A patent-pending universal switch fabric, which enables both SONET- and packet-based traffic to be switched, groomed, and managed in native format, forms the heart of the system.
During a visit to Lightwave's offices, director of market development Sam Lisle and distinguished product planner, data product planning Greg Nehib stressed that Fujitsu Network Communications is not attempting to emulate the work of some router manufacturers to integrate WDM technology into routing platforms (see this month's "Tech Trends" column on page 11). ONPs will perform aggregation and transport, rather than upper-layer service provisioning and management, they said.
The new system is designed to accommodate universal line cards that enable carriers to match features to requirements, including the support of SONET-only, ROADM-only, and Ethernet-only configurations with no cost premium. However, when all three functions reside in the same platform, the FLASHWAVE 9500 combines the attributes commonly associated with optical transport-including a deterministic dataplane, precision fault management and sectionalization, robust management interface, network protection, and equipment redundancy, among others-with connection-oriented Ethernet transport, including support of pseudowire and MPLS.
The initial configuration of the FLASHWAVE 9500 will provide 24 line card slots that are capable of supporting a two-degree (multidegree ready), 40-Gbit/sec ROADM capability in one-quarter of a shelf as well as 480 Gbits/sec of SONET or packet bandwidth in one-third of a rack. The chassis supports 40-Gbit/sec slots and is 100-Gigabit Ethernet ready, the Fujitsu visitors said. Future additions to the ONP line will feature greater capacity, which Lisle and Nehib said MSOs might find particularly useful. Fujitsu Network Communications also plans an aggregation edge device and premises-located system; Lisle and Nehib declined to predict when the company will release these additions.
The Fujitsu spokesmen said the FLASHWAVE 9500 should see application in support of triple-play service provision, wireless backhaul, consolidated core metro/regional networking, and consolidated Ethernet services delivery. This includes next-generation add/drop multiplexer extension and Ethernet over SONET applications.
The platform is supported via the NETSMART 1500 element management system, the NETSMART 2000 optical network planning tool, and the NETSMART 500 craft user interface.
The system should begin lab trials with lead customers in July or August, according to Lisle and Nehib, with general availability following in the fourth quarter of this year. While they anticipate they'll be the first to announce such a product, the Fujitsu spokesmen don't expect to be the only ones. They mentioned Alcatel-Lucent and Nortel among "the usual suspects" that might develop similar platforms.