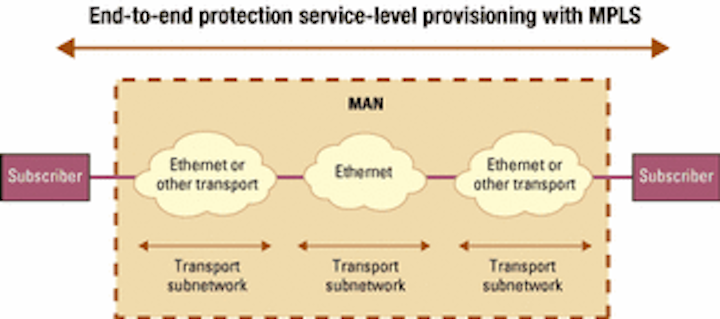 SPECIAL REPORTS: Optical Data Networks
Carriers require reliability, security, and support for voice traffic, regardless of the technology used in their metropolitan networks; new optical Ethernet solutions use different approaches to these issues.
NAN CHEN, Atrica Inc.
Ethernet is rapidly evolving into an end-to-end solution extending from the LAN to the metro core, the metro edge, and even the "last mile." The key driver behind this evolution is the compelling cost benefits to carriers in terms of capital and operating expenses. But for Ethernet to truly address the requirements of MANs, it must scale performance levels, deliver carrier-class protection mechanisms mimicking SONET, and support TDM traffic.
Today, two general approaches are used to address these requirements. One approach is to enhance existing Ethernet solutions originally designed for LANs. The other approach is to specifically engineer new optical Ethernet solutions that retain the core Ethernet foundation while combining optics and carrier-class features to deliver a viable alternative to SONET-based technologies.
Optical Ethernet systems combine the distinct benefits of Ethernet performance (scalability, low cost, and simplicity) with optical-networking technologies such as DWDM. These systems must also deliver the same carrier-class features available in SONET-based solutions, including 50-msec protection, TDM support, and guaranteed service-level agreements (SLAs). The future of optical Ethernet as the foundation for metro carrier networks lies in its ability to support these carrier-class features, which in turn will enable service providers to offer a broad set of services.
To deliver the protection and rapid fail-over rates to which carriers are accustomed with SONET-based technology, developers of optical Ethernet gear must overcome the limitations of Ethernet's incumbent spanning tree protocol (STP), an Ethernet technology that delivers 45-sec recovery rates from link failures. Recent attempts to address fail-over rates have included enhancing STP to reduce the recovery time to 5 sec. The IEEE 802.1w committee is working on standardizing this implementation. While that represents a significant improvement over the existing STP standard, certain carrier applications such as TDM-based voice and financial data transactions need the greater protection mechanisms provided by bidirectional SONET rings.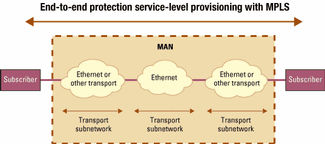 Using MPLS, optical-network systems can support end-to-end 50-msec protection, matching SONET-like protection for mission-critical applications across the metro network.
One approach to delivering SONET-like reliability to metro Ethernet networks is resilient packet ring (RPR) protocol, which focuses on mimicking fail-over rates of SONET in a ring-based Ethernet network. While RPR is experiencing some momentum, there are significant concerns that may hinder its viability long-term. Some fear RPR may be too expensive, as it requires a new media access control (MAC) layer, rather than preserving the Ethernet MAC. RPR also uses a shared access approach, which could represent scalability concerns.
Increasingly, optical Ethernet solutions are emerging with new approaches for delivering SONET reliability, while preserving the cost advantages of Ethernet and its MAC. One such solution leverages MPLS to deliver 50-msec protection for both ring- and mesh-based metro-network topologies (see Figure). Here are the key advantages of using MPLS for protection switching:
Facilitates alternative switching paths.
Label switch-path tunnels enable 50-msec protection.
Protection between different transport protocols isn't needed because MPLS is the only protocol used.
Provides visibility and enables manipulation at the packet flow level.
Allows providers to optimize their bandwidth for protected traffic and allocate less bandwidth for unprotected traffic.
Enables carriers to use alternative routes for switched traffic according to bandwidth availability.
No constriction to certain topologies such as dual rings, which can easily get congested.
MPLS-based tunnels in redundant ring or mesh topologies can redirect traffic at wire speed across optical Ethernet-based networks upon detection of a link failure. They also represent a magnitude of improvement in providing secure end-to-end customer connectivity. Traditional Ethernet switches must use virtual LANs (VLANs) to provide these connections. Most switches support a maximum of 4,096 VLANs, so scalability is an issue. Using MPLS on an optical Ethernet network allows service providers to potentially scale to tens, and even hundreds of thousands of flows, or customer connections.
Optical Ethernet solutions with MPLS also enable carriers to provision end-to-end service levels. With traditional Ethernet switches, carriers were forced to spend large amounts of time configuring parameters such as rate limiting on a per-switch basis. With MPLS-based flows and new point-and-click service provisioning software, carriers can enforce service levels on a per-MPLS flow basis, across the network. For example, committed information rates and excess information rates can be configured and assigned as an attribute to an MPLS flow. MPLS offers the ability to take advantage of packet information, enabling a flexible service provisioning architecture that allows carriers to assign SLAs based on customer, IP address, and application type.
Another key carrier-class feature that will propel usage of Ethernet in the metro is support of TDM services via circuit emulation services. Emerging optical Ethernet systems support the integration of TDM traffic transported via optical Ethernet interfaces. At the customer premises, optical Ethernet edge switches can packetize TDM traffic via T1/E1, T3/E3, DS-1, DS-3, OC-3, and even OC-12 interfaces. This packetized traffic is assigned the highest available classification tag for transport across the network. The classification is accomplished using an 802.1p-based tag at the edge mapped to an MPLS label at the metro core, or increasingly, end-to-end MPLS labeling across the network. Clocking is supported for accurate and reliable TDM voice transmission. The MPLS tunnel itself provides guaranteed, secure service levels across the metro network, with interfacing to the public-switched telephone network occurring at a central point of presence.
The allure of such carrier-class capabilities is clear: Carriers can deliver high-bandwidth data services and at the same time continue to support their traditional voice services on a single network. Optical Ethernet offers a cost-effective, scalable transport solution across the metro core with support for existing SONET-based services at the metro edge. The ability to map OC-3 and OC-12 interfaces over an optical Ethernet network makes this option compelling for carriers to migrate their legacy services in a phased approach. SONET investments are preserved, while a new, more profitable solution is realized for metro transport.
In the end, optical Ethernet will only be successful if it delivers carrier-class features allowing service providers to support their customer base. Through deployment, service providers can strengthen their service offerings and increase their revenue income, partly through reduced costs.
Initial estimates project that large metro systems using high-end optical Ethernet equipment will enable carriers to reduce their equipment acquisition costs by over 50% compared to comparable SONET-based equipment. This estimate includes existing SONET vendor projections for cost reduction in their own products. That will help not only the larger service providers, but also the smaller, emerging providers, enabling these companies to invest less in equipment before realizing a return on their investment.
Optical Ethernet benefits from three strong positions here:

As a simpler technology it is easier to troubleshoot and manage.
There is a much greater pool of Ethernet-savvy engineering/support talent than there are SONET technologists.
As a second-generation metro implementation (the first was SONET), optical Ethernet developers will have the ability to design their management and hardware/software platforms together from the beginning to meet the demands of service providers-in contrast to the first generation of products that often have to be tuned and redesigned to meet this same high level of management standards.
Optical Ethernet systems can promise a marked change in carrier business models, particularly in MANs, by presenting the opportunity for service providers to leverage the 10x price/performance increase of Ethernet to support a wider variety of services. In today's business climate, it is more important than ever for carriers to rapidly deliver broader, more profitable services for both business and residential customers. And while Ethernet promises tremendous cost savings and unmatched scalability compared to existing SONET-based solutions, realizing new carrier-class features for optical Ethernet is required for large-scale acceptance.
---
Nan Chen is director of product marketing at Atrica Inc. (Santa Clara, CA) and president of the Metro Ethernet Forum.
An expanded version of this article is found on Lightwave's home page at www.lightwaveonline.com.