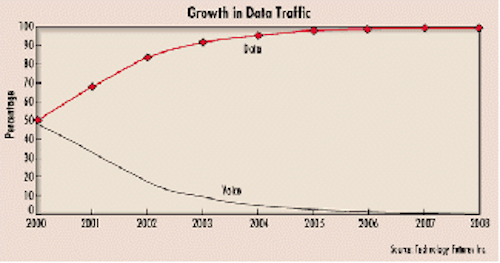 Voice traffic is currently growing at a rate of 10% or less each year, while data traffic is growing at an estimated 125% per year. By 2007, voice traffic will comprise less than 1% of the total traffic (see Figure). According to a new report from telecommunications forecaster Tech nology Futures Inc. (TFI-Austin, TX), today's digital or circuit switches, designed in the 1980s and optimized for voice traffic, will be overwhelmed by the exponential increase in data traffic. To accommodate this growth, incumbent local-exchange carriers (ILECs) must transition away from circuit-switching technology to a form of cell (Asyn chronous Transfer Mode-ATM) or packet (Internet-protocol-IP) switching.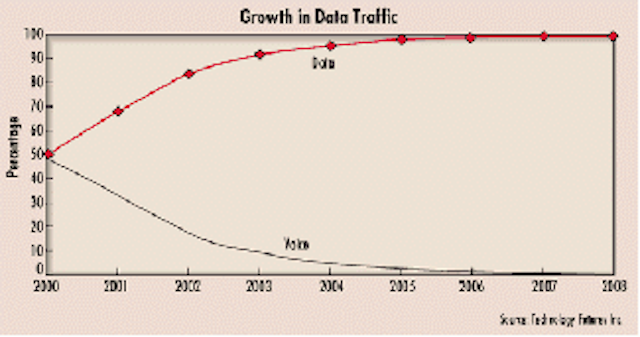 Packet switching is better suited to data traffic because, unlike voice traffic, which is continuous, data traffic comes in bursts. As a result, packets of data from several users can share the same channel, which eliminates the need to have a dedicated circuit for each user. In addition, cost and performance improvements in packet switching are projected to outpace the cost and performance improvements of digital switching. Whereas improvements to digital switches require modification to other embedded components, ATM/IP switches are still relatively new and will benefit from typical learning-curve effects.
"ATM/IP switches are optimized for data, and when data dominates, they will become cost-effective for all forms of traffic," asserts senior consultant Ray L. Hodges, report co-author. "Voice traffic will increasingly be disguised as data and transported over the packet network. The direction is clear, but the time of transition is more difficult to determine."
While there is no consensus as to whether ATM or IP will dominate the market in the future, TFI analysts believe they will coexist for at least the next five to 10 years. They believe ATM will dominate the core switching and backbone network with limited edge applications. Within the next 10 years, IP will most likely drive out other protocols at the edge and, in the long run, IP over dense wavelength-division multiplexing may even eliminate the need for ATM and/or SONET.
One certainty is that traffic will migrate to the most efficient network and, according to TFI analysts, if ILECs do not keep pace with the competition and implement the most efficient technology, they will lose market share. Several factors will contribute to increased competition in the switch market, including open packet-switch architecture standards; expanded network unbundling as ordered by the Tele communications Act; the readiness of competitive local-exchange carriers to provide competitive switched services; and the scalability of packet switching, which makes it cost-effective for both mass and niche markets. TFI predicts that by 2010, ILECs will have converted 90% of their switch capacity from circuit technology to cell- and packet-switched technology.
In addition to examining the need to transition from circuit switching to packet switching, the report, "Technology Forecasts for Local Exchange Switching Equipment," also details the advantages and disadvantages of IP and ATM switching and provides an assessment of how these technologies will evolve. It also looks at the impact of ATM/IP packet switching on the embedded digital circuit switches of ILECs. In addition, the study explores the future of switching technology, offering a description and analysis of optical switching. For more information, call (512) 258-8898 or visit the company's Website at www.tfi.com.