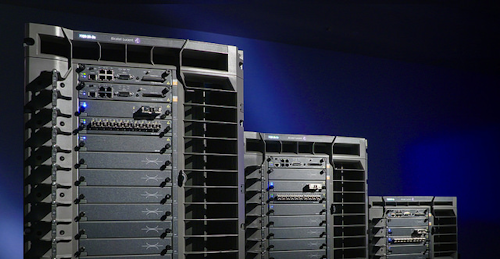 Alcatel-Lucent (Euronext Paris and NYSE: ALU) will expand its range of 7750 SR service routers with the 7750 SR-e line. The new entrants, which include three edge routers, fill the space between the original 7750 SR and the smaller 7750 SR-a systems that Alcatel-Lucent unveiled last November.

The Alcatel-Lucent 7750 SR-e systems are designed to provide full IP edge routing capability in a mid-size form factor. The SR-e family, which the company describes as "cloud ready," will include three members: the SR-1e (400 Gbps), SR-2e (800 Gbps) and SR-3e (1.2 Tbps). All three will support Gigabit Ethernet, 10 Gigabit Ethernet, and 100 Gigabit Ethernet interfaces.

As is the case with the other 7750 SR systems, the new line will leverage the company's FP3 silicon, SR OS operating system, common network and service management via the 5620 SAM for the new SR systems and Alcatel-Lucent's 1830 Photonic Service Switch (PSS), and multi-layer software-defined networking (SDN) control with the company's Network Services Platform. It also can enable a converged IP/optical network with GMPLS UNI, according to Alcatel-Lucent.

"The question service providers want to know today is will my existing hardware move forward in the future with me? And the answer should be yes, especially for any hardware investments they're making now," commented Glen Hunt, principal analyst, transport and routing infrastructure, at Current Analysis, via the product announcement. "Alcatel-Lucent has weighed this heavily into the design of its latest service router family member and is taking the right approach in expanding its portfolio. The newly announced 7750 SR-e series, in addition to the entire SR family, has the IP/optical capability and works with the company's 5620 SAM and Network Services Platform. From a future-proof, cloud-ready point of view this bodes very well for this platform."
Alcatel-Lucent plans to make the routers available for customer trials during the fourth quarter of this year, with general availability following in 2016.

For more information on routers and suppliers, visit the Lightwave Buyer's Guide.