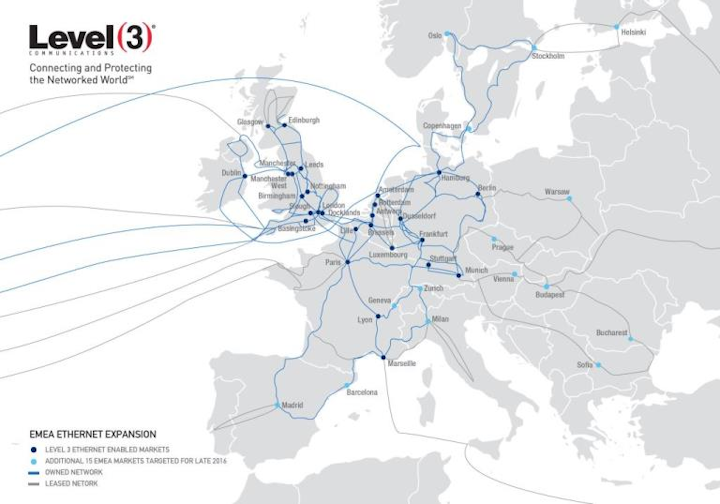 Level 3 Communications, Inc. (NYSE: LVLT) says it now offers MEF 2.0 Carrier Ethernet services in 27 markets across Europe (see map above for locations). The service provider says it plans to expand its European presence to another 15 locations in EMEA later this year.

The metro Ethernet service portfolio includes:

E-Line, E-Access, and Cloud Service Provider (CSP) connectivity with what Level 3 says is service levels for latency and on-net availability of up to 99.999%
Level 3 Adaptive Network Control Solutions with "Dynamic Capacity," which enable enterprises to adjust their bandwidth based on usage triggers, by scheduling or on an ad hoc basis
Both point-to-point and point-to-multipoint configurations.

"The flexibility of Ethernet-based solutions appeals to today's global companies that rely on high-performance voice, video and data applications to meet market demands while achieving growth and operational efficiency," said Andrew Crouch, regional president, EMEA and Global Accounts Management Division, Level 3 Communications. "Expanding our award-winning Ethernet portfolio into these initial 27 European markets is another key investment in the region and a milestone for Level 3's pursuit of a single, ubiquitous network to support our customers."

For more information on high-speed transmission systems and suppliers, visit the Lightwave Buyer's Guide.