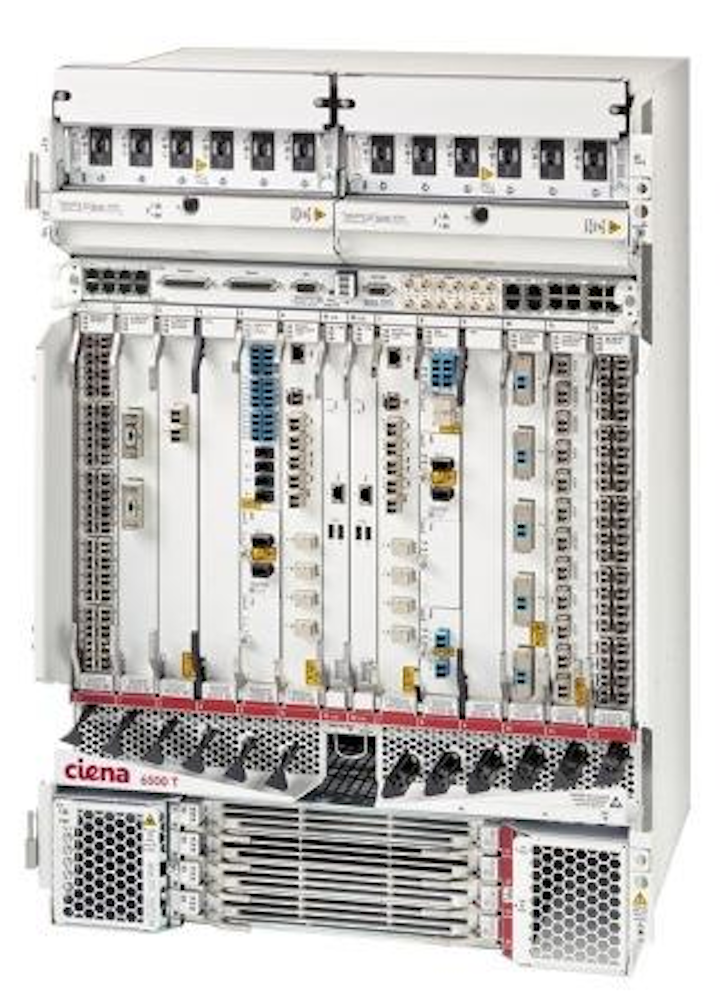 Ciena (NYSE: CIEN) has expanded its 6500 Packet-Optical Platform family with the new 6500 T-Series. The new family offers improved density and scalability versus existing 6500 packet-optical transport systems while enabling software-defined networking (SDN) control. Verizon is among the first customers for the new platforms, says a company source.

The new systems will supply as much as a 10X improvement in port density versus the current generation of 6500, says Michael Adams, Ciena's vice president of product and technology marketing. Depending upon port configuration and which version of the platform is being used, a single chassis will be able to scale from 2.4 Tbps to 24 Tbps. The system is designed to support a terabit per slot, Adams reveals.

The product family initially will include a pair of systems, the 12-slot T-12 and the 24-slot T-24.

In addition to Verizon, which will use the 6500 T-Series as part of its U.S. metro network upgrade program (see "Verizon confirms Ciena, Cisco to supply U.S. 100-Gbps metro network gear"), examples of the T-Series are in the labs of what Adams referenced as "significant customers."

Ciena also announced a pair of initiatives that will benefit the T-Series as well as other elements of the 6500 family. One will see the delivery of open API support and the ability to leverage Ciena's Emulation Cloud platform, which supports the development and testing of apps that might run over Ciena equipment. The new capability, along with a fresh set of apps, should begin rolling out this June, Adams says.

Meanwhile, the company has embarked on the expected task of integrating the 6500 into the Blue Planet Ecosystem. Ciena acquired the Blue Planet SDN and network functions virtualization (NFV) platform when it bought Cyan last year (see "Ciena closes Cyan acquisition, begins integration"). Adams predicted the integration work will reach completion by the end of this year.

For related articles, visit the Network Design Topic Center.

For more information on high-speed transmission systems and suppliers, visit the Lightwave Buyer's Guide.