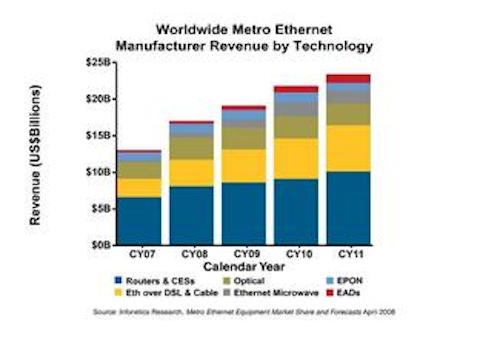 MAY 7, 2008 -- Worldwide metro Ethernet equipment sales hit $13 billion in 2007, up 27% from the previous year, and are projected by analyst firm Infonetics Research (search for Infonetics Research) to continue to experience double-digit growth over the next four years.
According to Infonetics' latest "Metro Ethernet Equipment" report, each year more Ethernet equipment is being deployed where previously SONET/ SDH or ATM equipment was used.
"By 2011-2012, the majority of access and aggregation equipment being deployed by carriers around the world will be IP, Ethernet, and WDM, not SONET/SDH," notes Michael Howard, principal analyst for optical and metro Ethernet and co-founder of Infonetics Research. "In 2007 and especially in 2008, we're seeing more carriers using Ethernet, and more carriers conducting interoperability tests of all sorts of Ethernet products for residential broadband, business connections, and mobile backhaul," he says.
According to the report, the hottest selling technologies in the metro Ethernet market are routers and carrier Ethernet switches (CES), Ethernet over DSL, and Ethernet over optical. The fastest growing metro Ethernet technology over the next five years is Ethernet microwave, most of which will be used to support the move to IP and Ethernet in mobile backhaul, where microwave is used for 55% to 60% of the mobile backhaul connections in the world.
The report also finds that:
• Sales of copper and fiber Ethernet access devices (EADs) will nearly quadruple from 2007 to 2011.
• ADVA Optical captures the top spot for worldwide EAD revenue market share in 2007, followed by RAD Data and ADTRAN.
• Worldwide metro Ethernet equipment ports hit 40.5 million in 2007, and will grow quickly through 2011, dominated by VDSL Ethernet 10/100M ports and EPON ports.
• The EMEA and Asia Pacific regions are more readily adopting Ethernet than North America and CALA, even though North America is the home of Ethernet; the Asian service providers are embracing the simpler, less expensive technology.
Infonetics' report includes market size, analysis, and forecasts through 2011 for metro Ethernet ports and equipment, including CES, IP core and edge routers, Ethernet over SONET/SDH, Ethernet over WDM, Ethernet over DSL and cable, Ethernet over microwave, EADs, and EPON.
Visit Infonetics Research