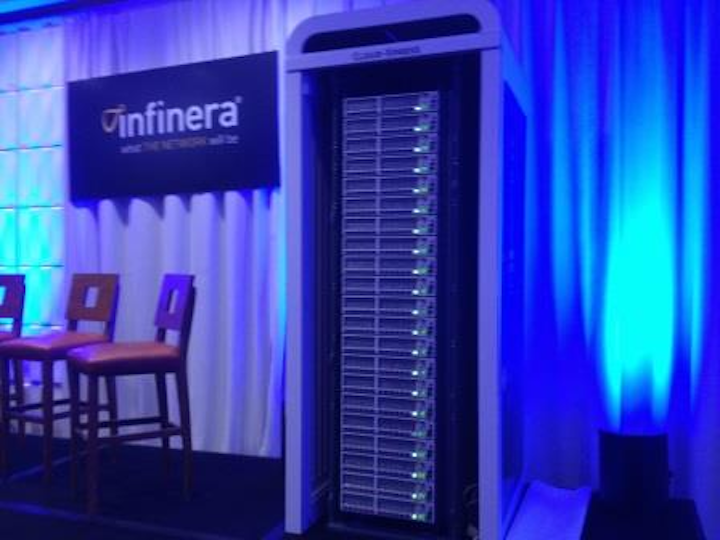 Having staked a claim to the high-speed long-haul market with its DTN-X packet-optical transport platform, Infinera (NASDAQ: INFN) is turning its attention to the metro. Believing there are two distinct metro markets – metro aggregation and metro cloud – that require different approaches, the company has announced a pair of metro initiatives. Infinera will offer new metro-aggregation capabilities for the DTN-X in 2015, as well as the new Cloud Xpress platform by the end of this year for nearer-term cloud/data center interconnect requirements.

The Cloud Xpress leverages attributes of the DTN-X, including the 500-Gbps photonic integrated circuit (PIC) and Instant Bandwidth technology, to squeeze 1 Tbps of input/output capacity (so that's 500G in and 500G out, for a total of 1 Tbps) into a 2 RU package. The units are designed to be "rack and stack," which would enable 42 Tbps in a full rack. The transport capacity is accessible via 10, 40, and 100 Gigabit Ethernet ports. (UPDATE: Infinera subsequently revealed that the three different port speeds will come via three different versions of the Cloud Xpress.) The Instant Bandwidth feature will enable operators to access the 500-Gbps capacity of each PIC incrementally (see "Infinera offers Instant Bandwidth on DTN-X packet optical transport platform").

At an analyst and press event held in Santa Clara, CA, to mark the announcement, Infinera's new senior vice president of data center technology, Stu Elby, said the Cloud Xpress platform requires only 130 W per 100G, which he asserted was half the total required of the lowest-power commercially available competitor. Combining the capacity, size, and power attributes of the new offering, Elby said that in a 10-Tbps deployment, use of Cloud Xpress platforms would require 75% less space and 48% less power than the leading competitor, which he did not identify.

The system also is designed to be set up and provisioned in a manner similar to a typical server to make it easy to use in a data center environment. It also offers cloud-based provisioning via an open SDN API. Infinera offered attendees at the event the opportunity to see the system operating in an OpenDaylight-based software-defined networking (SDN) environment.

Elby said that Infinera had already shipped "a couple" of the new systems to "large customers." (Infinera Vice President of Corporate Marketing Mike Capuano later identified them as a large Internet content provider and a large Internet service provider, with a third shipment imminent.) UPDATE: The 10- and 40-Gbps versions of the Cloud Xpress platforms should be generally available by this December, with the version that supports 100-Gbps ports following at an unspecified later date.

For the metro aggregation requirement, which Infinera CEO Tom Fallon told event attendees likely wouldn't ramp until 2016, the company during the first quarter of 2015 will make available the Packet Switching Module (PXM). The module, a tributary card for the DTN-X, will take incoming Ethernet VLAN and MPLS packets and map them directly and efficiently to superchannel-scale optical transport streams.

Infinera President and Co-Founder David Welch said use of the PXM capabilities will reduce the need for Ethernet switches for traffic grooming before input into optical transport platforms. It also will improve optical bandwidth utilization, he added.

During a user panel held after the product announcements, Jay Pabley, vice president, global network architecture at Infinera customer Equinix, expressed interest in both new offerings – "As long as they're at the right price," he emphasized.

Steve Orchard, senior vice president and general manager, data center and network services at Internap, said during the panel he was "very excited" by the Cloud Xpress offering. The small size and low power "are key" to deployment into existing infrastructure, he added. In fact, he drew laughs by asking for the release date to be moved up to October.
UPDATE: Meanwhile, Infinera sources made it clear that they're not finished in the metro. Another platform appears to be under development, with unveiling appearing likely in the first half of next year.

For more information on packet transport systems and suppliers, visit the Lightwave Buyer's Guide.