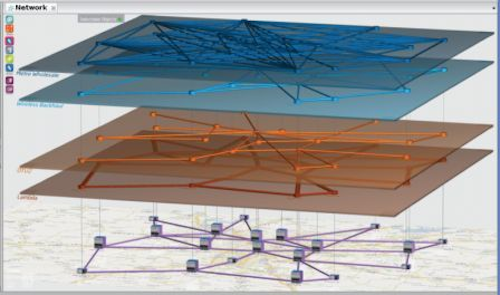 SEPTEMBER 15, 2009 By Stephen Hardy UPDATED -- Touting what an analyst called "the first purpose-built packet optical platform," Cyan Optics has unveiled both the company and its Z-Series of multi-layer transport platforms. The platforms, paired with the CyMS multi-layer management system, are already in service with more than 20 carrier customers, the company reveals.
According to Frank Wiener, Cyan vice president of marketing and business development, the company was founded in 2006 by President and CEO Mike Hatfield (ex-Calix, Cerent, and AFC) and CTO Steve West (ex-Turin Networks and AFC). The company has been through three rounds of funding, with Juniper Networks involved in the last two. Other investors include Azure Capital Partners, Grande Ventures, Kinetic Ventures, Northwest Venture Partners, and Telecom Development Fund.
Cyan emphasizes a multi-layer, evolutionary approach to packet optical networking, Wiener says. The company's initial two Z-Series platforms, the 5RU Cyan Z33 and 13 RU Z77 multi-layer transport platforms, are modular systems that can combine packet, TDM, and optical add/drop multiplexer, crossconnect, and transport features depending upon the cards installed. The systems are designed to compete as both point products -- as 10G Ethernet, SONET, or SDH edge aggregation and add/drop multiplexer systems, for example -- as well as integrated platforms offering multiple features. The two boxes use the same cards and offer 100 Gbps per slot. The modularity enables Cyan to get its foot in the door with carriers at multiple stages of the evolutionary process from legacy service to converged service provision.
That said, Wiener says the two boxes differ in more ways than just size. The larger Cyan Z77 features a midplane architecture that enables plug-in switch modules to enhance communications among the systems' cards. This increases capacity and functionality, enabling the Z77 to act a as multilayer crossconnect with a seven-degree ROADM capability. It pairs these features with packet, TDM, OTN, and optical add/drop multiplexing functions. The switch fabrics support up to 840 Gbps of protected packet service or 720 Gbps of protected SONET/SDH capacity. The total system capacity per chassis is 2.5 Tbps. The platform targets larger aggregation, transit, and hub applications.
The smaller Z33 is seen as an edge aggregation and/or multi-layer add/drop multiplexer platform with a two-degree ROADM capability. It also will compete with multi-service provisioning platforms, Wiener says. The Z33 offers connection-oriented Metro Ethernet Forum services support as well as OTN functionality. Its DWDM modules can combine up to 4, 8, or 40 channels of 10-Gbps wavelengths per fiber.
Cyan is particularly proud of the Cyan CyMS, which the company says is the first management system that provides full multi-layer visibility and business intelligence (see photo). The management system offers 3-D network visualization and network virtualization, aiding intra- and inter-layer topology optimization. The result is simplified planning and provisioning operations, Wiener says.
The new offerings certainly caught the attention of Michael Howard, principal analyst of carrier and data center networks at Infonetics Research. "The Cyan Z-Series takes packet optical transport systems to a new level of multi-layer integration in both hardware and software," said Howard in Cyan's press release. "I especially like the breakthrough innovation of multi-layer management comprising visualization, planning, provisioning, and control, which will help make service providers' operations fundamentally more efficient. This is one of the best new products I've seen in years."
More importantly, Cyan has also gained traction among potential customers. Cyan says its current customers include metro and regional Ethernet service providers, local and regional broadband providers, transport providers, cable MSOs, and data center operators. The company identified US Carrier, Buckeye Telesystem, and Wisconsin Independent Network as among these customers.
The Cyan Z-Series platforms and CyMS management system are available now.