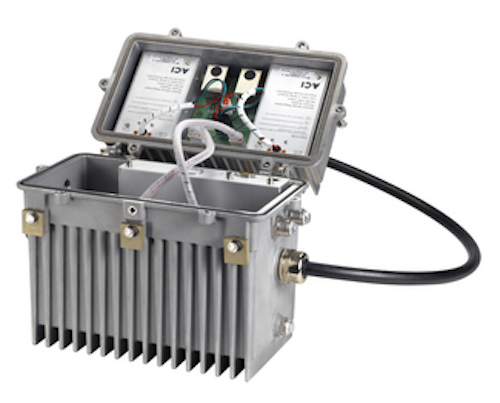 April 5, 2006 Santa Clara, CA -- Atrica today introduced what it claims is the industry's first outdoor carrier Ethernet edge switch. Hardened for outdoor, uncontrolled environments, the A-2160 was developed in conjunction with Cox Communications, which is using the switch to expand its deployment of Ethernet services closer to the customer. Though it was developed with a cable multiple system operator (MSO), the A-2160 also should gain traction for wireless backhaul and fiber-to-the-home/curb/business applications, notes Umesh Kukreja, Atrica's director of product marketing.
Outdoor switches are "the next frontier" for the expanding carrier Ethernet market, says Kukreja. "As carrier Ethernet services have developed, there is an emerging need for building a switch that can be deployed very close to the customer on poles or strands," he reports, adding that the switch has been approved by Cox and already is being deployed in the field.
Cable MSOs like Cox increasingly are turning to carrier-grade Ethernet to deliver standard telecom services to their business customers, says Kukreja. "The attractiveness of using carrier Ethernet platforms that have the scalability, hard QoS [quality of service], and protection is the fact that they can use these elements to create a product and service portfolio that is extremely competitive and very differentiated from the ILECs in the US."
The North American ILECs, for example, deliver various services from multiple platforms. For guaranteed services, they may use an Ethernet-over-SONET architecture. For best-effort services, they may use a Layer 2 switch architecture. And they also may deploy services via an Ethernet-over-WDM-type architecture using media converters. This setup is less than ideal for enterprise customers, says Kukreja, because it requires them to obtain separate contracts and service level agreements (SLAs) from the ILECs.
That said, Atrica also expects interest from the ILECs to expand Ethernet services within their coverage areas and also for out-of-franchise deployments. Atrica declined to provide specifics but did confirm that an ILEC in the U.S. currently is using the A-2160 to build a scalable Ethernet platform outside its region.
Features and functions
The A-2160 is first carrier Ethernet device with an environmentally hardened internal design and fully sealed waterproof metallic enclosure. The Ethernet edge switch features two power supplies and two fiber outlets on opposite sides of the box, enabling it to sit on the same ring as other carrier Ethernet products in the network.
Moreover, Atrica's outdoor switch features the same built-in intelligence that marks its other carrier Ethernet products, including granular quality of service (QoS); sub-50 msec protection; and comprehensive operations, administration, and maintenance (OAM) functions that enable network operators to detect faults quickly and easily. The A-2160 also is managed from Atrica's ASPEN network management platform.
Expanding markets
Over the last 12 to 18 months, Atrica has seen increased deployments among its global customer base, says Kukreja. "Through various customers, we have competitive networks in many of the major metros: Paris, Barcelona, Dusseldorf, Tokyo, New York City, San Francisco."
To that end, Atrica also has released details about a new round of funding, totaling $28.2 million in equity and debt financing. Led by Vesbridge Partners and GunnAllen Venture Partners, the round includes continued funding from existing investors Innovacom (the venture capital subsidiary of France Telecom), JK&B, and Investor Growth; funding from new investor AT&T Corporation; and debt financing from European Venture Partners (EVP). According to Kukreja, Atrica will use the funds to expand engineering and operations functions to support the increasing deployments of its carrier Ethernet systems among its global customer base.
"We are currently engaged with over 30 different carriers worldwide," he reports. "It's quite exciting because it gets us from just having the technology and the feeds and speeds to actually solving problems and creating new services and helping [our customers] market the services to different vertical markets."
Atrica's A-2160 features two power supplies and two fiber outlets on opposite sides of the switch, enabling it to sit on the same ring with other carrier Ethernet products.