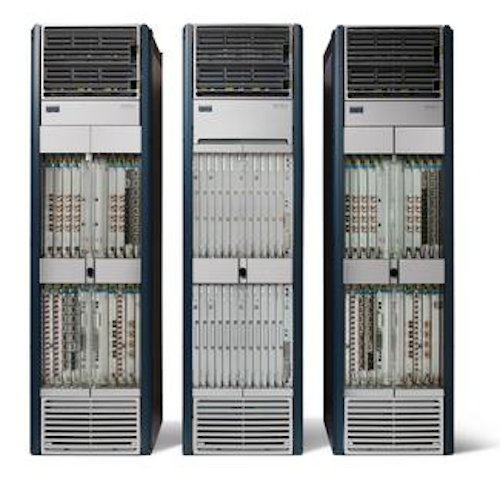 May 26, 2004 San Jose, CA -- Cisco Systems Inc. unveiled its highly touted CRS-1 Carrier Routing System, a new class of routing system designed to deliver continuous system operation, service flexibility, and extended system longevity to service providers and research organizations. The new system enables customers to scale network capacity to new levels and deliver next-generation data, voice, and video services over a converged Internet Protocol (IP) network while protecting their investments in the system.
"The Cisco CRS-1 is a result of Cisco's partnership with our service provider customers to redefine how next-generation IP networks are built to deliver data, voice, and video applications," explains Mike Volpi, senior vice president/general manager, Routing Technology Group, Cisco Systems. "To be profitable, service providers are focusing on network and service convergence to reduce total cost of ownership and adding new, revenue-generating services. The Cisco CRS-1 sets new industry standards for reliability, IP service flexibility, and scalability," he says, "which will enable service providers to become more cost-efficient while delivering a new suite of exciting, multimedia services to business and residential customers."
The Cisco CRS-1 comprises a series of new hardware and software offerings, including:
• Cisco IOS XR Software, a new member of the Cisco IOS Software family, designed for terabit-scale routing systems built on massively distributed multi-shelf architectures;
• System capacity of up to 92 Tbits/sec;
• The industry's first Optical Carrier (OC)-768c/STM-256c packet interface;
• The Cisco Silicon Packet Processor (SPP), a sophisticated 40-Gbit/sec application-specific integrated circuit (ASIC);
• Extensible Markup Language (XML)-based Cisco Craft Web Interface (CWI), a visual management tool that can manage single-shelf or multishelf systems; and
• The Cisco Intelligent ServiceFlex design for service flexibility and speed to service.
With its technology breakthroughs, the Cisco CRS-1 enables reliable, large-scale delivery of high-bandwidth applications, including video on demand, online gaming, and real-time interactive services, say company representatives.
The Cisco CRS-1 provides continuous system operation, permitting maintenance and upgrades without any service interruptions. This fault-tolerance capability is achieved through the IOS XR Software, which Cisco claims is the industry's only self-healing operating system for multi-shelf carrier infrastructures scaling up to 92 Tbits/sec. The memory-protected, microkernel-based operating system enables process-level in-service upgrades and enables fully distributed processing by separating the control, data, and management planes. This modular design provides fault containment and automatic fault recovery so that processes can be started, stopped, and upgraded without human intervention. In addition, the Cisco CRS-1 features self-defending network capabilities to automatically recognize disruptive activities, such as distributed-denial-of-service (DDoS) attacks, with hardware- and software-based infrastructure.
The Cisco CRS-1 features operationally efficient system management through command-line-interface (CLI) enhancements, Simple Network Management Protocol (SNMP) or XML-based interfaces. The new XML-based Craft Web Interface (CWI) is a visual management tool that can manage single-shelf or multishelf systems.
The Cisco CRS-1 is built with a service-separation architecture--the Cisco Intelligent ServiceFlex design--that separates traffic and network operations on a per-service or per-customer basis within the system. This design allows carriers to quickly adapt to changing customer needs and accelerate service delivery by combining the Cisco Silicon Packet Processor (SPP), a 40-Gbit/sec ASIC, with Cisco IOS XR Software. With comprehensive service separation and line-rate feature flexibility, the Cisco CRS-1 allows carriers to consolidate multiple networks onto one secure infrastructure and deliver converged network services.
The Cisco CRS-1 is a nonblocking, self-routed multi-shelf system that scales from 1.2 to 92 Tbits/sec. The system features the industry's first OC-768c/STM-256c IP interface and supports up to 1152 40-Gbit/sec line-card slots. System processes such as Border Gateway Protocol (BGP) and Multiprotocol Label Switching (MPLS) can also be fully distributed across the routing system for maximum efficiency and scale.
During a product-unveiling event today hosted by Cisco at the Computer History Museum in Mountain View, CA, MCI, using Cisco CRS-1 systems, demonstrated the fastest IP intercity transmission ever across MCI's IP backbone at 40-Gbits/sec throughput. (See "MCI achieves 40-Gbit/sec milestone.")
"Our mission is to serve our customers and help them realize the enormous benefits of MCI's global IP network," reports Jonathan Crane, chief strategy officer, MCI. "The promise of a high-capacity router complements our ultra-long-haul network strategy designed to meet the increasing capacity needs of our customers as they move to a digital, IP environment."
The Cisco CRS-1 is currently in field trials now with carriers and service providers worldwide and is scheduled to be available in July 2004. The starting system list price is $450,000.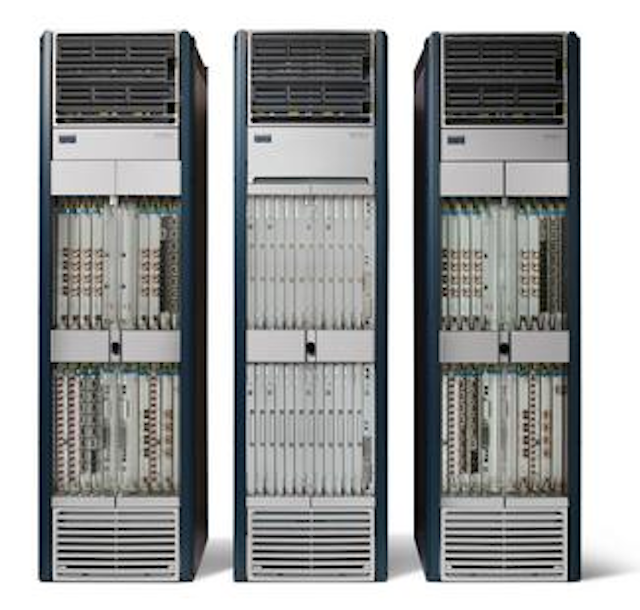 The CRS-1 features what Cisco claims is the industry's first OC-768c packet interface.