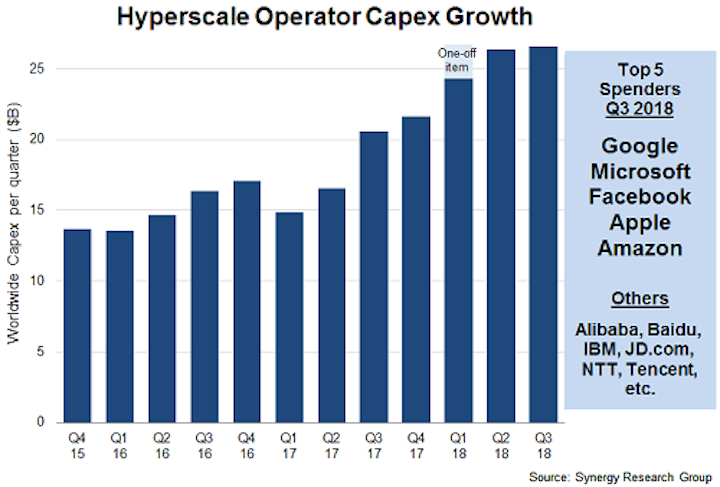 Synergy Research Group reports that hyperscale data center operators spent more than $26 billion in capex during the third quarter of 2018. That brings total capex for the first three quarters of the year to 53% more than such operators spent during the first nine months of 2017, the market research firm states in its latest quarterly report.
Capex during the quarter was the second highest Synergy Research says it has recorded; 1Q18 capex topped that of the second quarter only because Google spent an additional $2.4 billion to buy Manhattan's Chelsea Market building in March. Hyperscale data center operators spend much of their capex on buildings, including expanding and equipping mega data centers, notes the research firm. Synergy Research counts 423 such large-scale facilities as of the end of 3Q18.
"Business at the hyperscale operators is booming. Over the last four quarters their year-on-year revenue growth has averaged 24% and they are investing an ever-growing percentage of their revenues in capex," said John Dinsdale, a chief analyst at Synergy Research Group. "That is a real boon for data center technology vendors and for colocation/wholesale data center operators, but it has created a huge barrier for companies wishing to meaningfully compete with those hyperscale firms. This is a game of massive scale and only a few can play that game."
Along these lines, Synergy notes that Google, Microsoft, Amazon, Apple, and Facebook have in aggregate accounted for 70% of hyperscale capex over the last 10 quarters. Microsoft spent a record amount in Q3, although the other four slightly curbed their capex versus the previous quarter. Synergy Research adds that Alibaba's capex rose considerably during the quarter.
Synergy Research bases its quarterly hyperscale capex reports on analysis of the capex and data center footprint of 20 of the world's major cloud and internet service firms, including the largest operators in IaaS, PaaS, SaaS, search, social networking, and e-commerce.
For related articles, visit the Business Topic Center.
For more information on high-speed transmission systems and suppliers, visit the Lightwave Buyer's Guide.