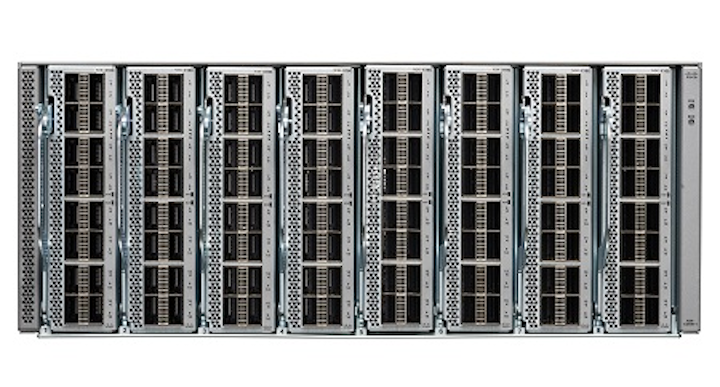 Cisco (NASDAQ: CSCO) has announced four 400 Gigabit Ethernet (GbE) additions to the Nexus series of Ethernet switches. The company says it should have such switches in field trials by the end of this year, with general availability slated for the first half of 2019.
"Our 400G switches do more than just bring a new level of speed to customers. They support the delivery of the signature capabilities that customers expect for their modern data-driven workloads and cloud environments," explained Roland Acra, senior vice president and general manager of the company's Data Center Business Group. "Superfast policy, segmentation, and whitelisting. Real-time visibility into packets, flows, and events. Smart buffering for big data and machine learning workloads. The ability to prioritize critical traffic on-demand. These are the things that Cisco has delivered to our customers across multiple generations of Nexus switches. And we are doing so again with our new 400G portfolio."
The 400GbE switches include:
The Nexus 9316D-GX, a 1RU, 16-port switch that Cisco says will work well in Application Centric Infrastructure (ACI) spine applications
The 1RU Nexus 93600CD-GX, which offers 28 ports of 100GbE and 8 ports of 400GbE for leaf requirements in a spine-and-leaf architecture
The Nexus 3408-S, which features a 4RU, eight-slot chassis that offers aggregation in either leaf or spine applications and support of either 128 ports of 100GbE or 32 ports of 400GbE via line card expansion modules
The Nexus 3432D-S, a 1RU switch with 32 ports of native 10/40/100/400GbE and break-out 2x200GbE and 4x50/100GbE
Cisco has been a major proponent of the QSFP-DD form factor, so it's likely the new Nexus switches will leverage such optical transceivers. The company also supports the development of bidirectional optical transceivers. Cisco notes that it supplied 400GbE switches to both the 100G Lambda Multi-Source Agreement (MSA) demonstration at ECOC 2018 in Rome this past September as well as the Ethernet Alliance's High-Speed Ethernet Plugfest in August.
For related articles, visit the Data Center Topic Center.
For more information on high-speed transmission systems and suppliers, visit the Lightwave Buyer's Guide.