New 50-micron fiber optimized for 10-GbE applications
Apr 1st, 2002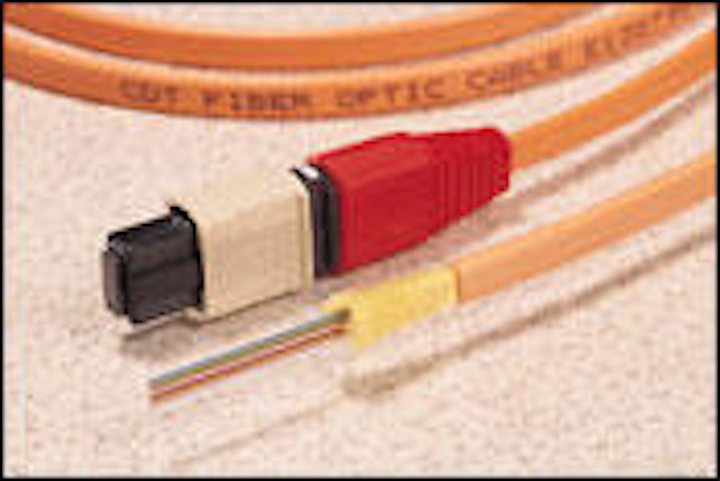 TECHNOLOGY
By MEGHAN FULLER
Cable Design Technologies (CDT-Pittsburgh) and Draka Comteq subsidiary Chromatic Technologies Inc. (Franklin, MA) recently announced new 50-micron multimode fibers (MMFs) specifically designed to work with vertical-cavity surface-emitting lasers (VCSELs) in the 850-nm window for 10-Gigabit Ethernet (10-GbE) applications. Spokespeople from Corning Inc. (Corning, NY) and Tyco Electronics Corp. (Middletown, PA) confirm that they will unveil similar fiber lines in the near future. Do these product releases signal a new trend away from 62.5-micron MMF for certain applications?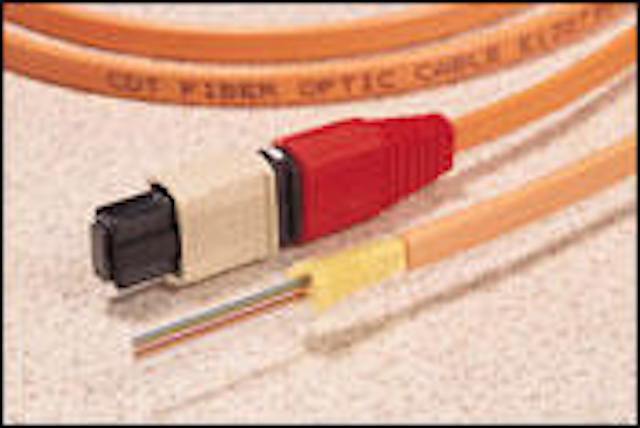 CDT recently unveiled its Advance Light laser-optimized 50-micron multimode fiber (shown here). Chromatic Technologies has already introduced its Max-Cap fiber, and companies like Tyco Electronics and Corning are planning to unveil their models shortly.
According to Herb Congdon, director of fiber systems marketing and technical support at Tyco Electronics, the use of the new "laser-optimized" 50-micron MMF is not yet a trend, per se. Rather, the new fiber is one of the most promising technologies for applications such as SANs and particularly LANs, where more bandwidth is now required.

"People are moving to richer, multimedia content," explains Subodh Sharma, commercial development manager of premises networks at Corning Inc. "PowerPoint files are now 2 to 3 Mbits each, and people send them off to 10 or 20 people at a time. Plus, people are using the Internet more often, using streaming video and audio. If you look within a LAN application, that's a lot of bandwidth going through at one time."

In 1999, the Institute of Electrical and Electronics Engineers formed a study group to examine the use of 10-GbE for bandwidth-intensive applications. Known as IEEE 802.3ae, the standard should be finalized this summer.
Ethernet has always been the predominant protocol used in LAN environments. In the early 1980s, Ethernet supported 10 Mbits/sec, but by the early 1990s, Ethernet had jumped to 100 Mbits/sec, also called Fast Ethernet. These protocols ran over copper or fiber and used an LED for a light source in the latter applications.
In 1998, a new protocol emerged: Gigabit Ethernet, a 10-fold increase over Fast Ethernet. The protocol necessitated a switch from LEDs to lasers; LEDs cannot modulate fast enough to support data rates higher than 622 Mbits/sec.
Now, 10-GbE is on the horizon. But before such speeds could be realized, a new fiber type had to be developed, one optimized for higher bandwidth and longer distances, say suppliers. While the new laser-optimized 50-micron MMF and standard 50-micron MMF have the same physical strength and handling properties, they feature a different index of refraction.
When fiber manufacturers designed standard 50-micron MMF, they placed the peak of the bandwidth curve at 980 nm. They centered the curve so that it covered both the 850-nm and 1300-nm windows, because all the electronics used either 850- or 1200-nm wavelengths for their optical sources.
When designing laser-optimized 50-micron MMF, manufacturers changed the index of refraction profile of the fiber; they shifted the bell curve so that the peak fell at 850 nm instead of 980 nm. "Now, you get the most bandwidth at 850 nm," explains

Congdon, "which enables you to support 10-GbE or 10-Gbit/sec data rates with the most fiber-because you have manufacturing yield issues, not all the fiber will pass."
The new 50-micron MMF will also support all of the legacy applications found in the LAN today as well as 10-Gigabit Fibre Channel.
The new laser-optimized fiber uses VCSEL transceivers as its light source; they are less costly than the alternatives, including long-wavelength lasers over singlemode fiber (SMF) and Fabry-Perot lasers over MMF in the 1300-nm window.
The use of VCSELs in the 850-nm window enables the fiber to extend longer distances. The IEEE 802.3 proposal specifies a reach of 300 m or roughly 900 ft, a length that meets most applications with the LAN environment, including campus, backbone or riser, and horizontal.
Both standard 50-micron and 62.5-micron MMF will also support 10-GbE, but they cannot support the necessary distances. Standard 50-micron operates up to 86 m, while 62.5-micron fiber will only operate up to 35 m.
Mike Connaughton, director of sales and marketing at CDT, contends that it's still a little early for any significant or widespread deployment of the new fiber. The TIA standard for laser-optimized 50-micon MMF has not yet been finalized, he says; standardization is still a couple of months away. "Once that's released though, that will drive the market a bit," he surmises. "People are reluctant to put in things that aren't standardized."
"People are asking about it, definitely," says Congdon, who says he recommends the laser-optimized fiber for new installations. However, he adds, laser-optimized 50-micron MMF is slightly more expensive than standard 50- or 62.5-micron fiber, which may hamper its deployment at first. That said, he also contends that the price premium can be justified "by the logic that 850-nm 10-GbE electronics will be less expensive than those that require a singlemode or 1300-nm source. Yes, you might have to pay a little bit more for your cable and your cabling plant, but you should be able to save more than that much money on your electronics."
Another attractive feature of the new fiber is that it supports the lowest levels of Ethernet all the way through 10-GbE. "End users may not necessarily be running at 10-gig now," says Sharma. "They may be running at Fast Ethernet speeds-at 100 Mbits/sec-but they can put this fiber in and still operate at Fast Ethernet speeds using LEDs. This fiber can be installed as an upgrade path so you don't have to re-cable in the future."
The storage industry is also expected to consume a fair amount of laser-optimized 50-micron MMF; in fact, it has already been deployed in some SANs to meet high-bandwidth demands. Other applications include Fibre Channel, high-performance serial buses, and the Optical Internetworking Forum's Very Short Reach standard.
People are typically surprised by the amount of 50-micron already deployed, says Connaughton. "What we see today in the market in general is that 50-micron fiber makes up about 15% of shipments of MMF," he says. With the ratification of the TIA standard for the fiber itself and the IEEE 802.3ae standard for 10-GbE systems, that percentage should increase dramatically as people begin using the new breed of 50-micron MMF for LAN applications.