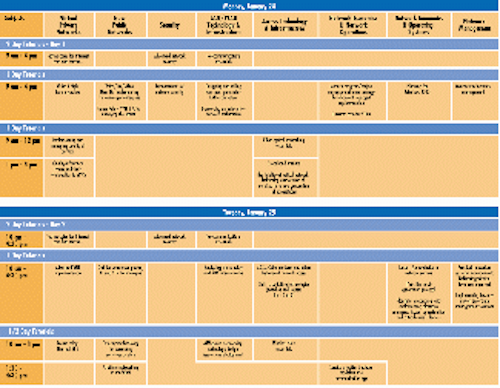 Fiber-optic technology may not be the star of the show, but it is definitely a major part of the supporting cast as Comnet 2000 opens at the Washington, DC, Convention Center January 24 and runs through January 27. The theme for this year's event, "Comnet Brings Networks Together," identifies the show's focus on bringing together solutions for building seamless networks that link the smallest local area networks (LANs) and the largest global-communications backbones.
With specific telecommunications technologies and application spaces continuing to overlap, fiber is rapidly making its way from traditional backbone architectures into intrabuilding plants. Comnet will provide fiber enthusiasts the opportunity to see the latest applications of fiber in such areas as access, metropolitan, premises, wide area networks (WANs), LANs, and fiber-to-the-desk.
"We want Comnet 2000 to be a show that provides attendees the information, products, technologies, and techniques they can use to achieve their goals, whether they're coming from the enterprise side or the service-provider side," says Don Berey, show director for Comnet 2000.
Exhibit hours are 10 am to 5:30 pm, Tuesday and Wednesday, and 10 am to 4 pm, Thursday. To achieve its goal, Comnet expects more than 450 companies to bring new products and technologies to the show's exhibit floor. But more importantly, Comnet organizers plan to present a number of other activities, including training and technical programs that will build on what is shown on the exhibit floor.
"The number of new products and the number of large companies introducing new products at this year's show are even surprising to me," says Berey. "It really reflects a confidence in Comnet to bring them the audience they need, which has been the strength of this event over the years. Comnet is unique in the sense that it's the only show in Washington, DC. The decision makers within Washington are making decisions in the telecommunications industry which aren't only going to affect commerce in the United States, but commerce worldwide."
One of the more notable new features of Comnet is the introduction of its New Venture Alley, a portion of the exhibit area dedicated to emerging companies from around the world. It provides an exhibiting opportunity for startup companies less than three years old to gain more exposure, while showcasing their latest enterprise networking and telecommunications products, technologies, services, and solutions to potential customers, investors, and partners.
"This new endeavor has been so successful we've added a second section to New Venture Alley," says Berey. "The first one we set up sold out, so we've had to add more space with a second section of the exhibit floor."
At least 17 associations have come on board with Comnet to communicate, offer services, and educate conference attendees. Among the participating associations are the Optical Internetworking Forum and Fiber-Optics LAN Association.
"We expect an attendance of about 50,000 this year," says Berey. "Last year, we had about 47,000 attendees. With about 450 companies involved, we expect Comnet to provide a broad cross section of the industry, from large enterprises to government to carriers and service providers to resellers and others who are working the channels. Our international audience is also growing. We're getting six conference attendees from Ghana this year. For someone from outside the United States to come here and have first-hand contact with decision makers through some of the programs, debates, and educational and technical sessions is truly a unique opportunity."
The conference will present four keynote speakers from the networking and communications industry that will share their visions of the many challenges facing today's companies and businesses.
On Tuesday, John Roth, vice chairman and CEO of Nortel Networks, will lead the series of keynote addresses with "Creating a New Era in Networking" at 8:45 am Roth will provide insights into industry trends and public policies shaping the networking and communications industries as we head into the new millennium. "The Future of Business on the Internet," covering Internet-related topics and issues, will be the focus of Bill Schrader's presentation at 1 pm Tuesday. Schrader is the CEO of PSINet.
Wednesday's keynote speaker is Eric Schmidt, chairman and CEO of Novell. Schmidt will present "Directory-enabled Networking: From Here to Ubiquity" at 8:45 am On Thursday at 8:45 am, Kathleen Earley, president of Internet services at AT&T, will wrap up the keynote series with "Living on the Edge: The Evolution of Networking."
The technical program, including tutorials, sessions, and classes, is organized into eight tracks: virtual private networks; new public networks; security; LAN/WAN technology and infrastructure; access technology and infrastructure; network economics and network operations; network applications and operating systems; and network management.
Comnet has 25% more tutorials on the program for this year's conference attendees, offering a "total immersion" approach to learning. The tutorial sessions are in two-day, one-day, or half-day presentations on a variety of topics from Monday through Wednesday. Technical sessions run throughout the day on Wednesday and Thursday, beginning at 10 am.
Three "Hands-On Learning" sessions are scheduled from 9 am to 4 pm as follows: Tuesday, "Securing Microsoft Windows NT Server;" Wednesday, "Overview of Windows 2000;" and Thursday, "Overview of Linux" (current version).
Several debates, including the Super Session, will provide an interesting opportunity to hear opposing views on some key industry topics. On Tuesday from 4:45 to 6 pm, the government and industry will face off on the subject, "Government Internet Regulation: Yea or Nay?" The Super Session debate, "Network World's Operating System Showdown: A Heated Debate on the Leading Software Platforms," will take place on Wednesday from 1 to 2:15 pm. The final debate, "Convergence or Internet Commerce: Which Will Drive Enterprise Network Strategy in the New Millennium?," will also be held Wednesday from 4:45 to 6 pm.
Comnet will also recognize accomplishment and innovation across the telecommunications industry through two new award programs. The first is the Comnet New Product Achievement Awards, which recognizes the best networking and communications products making their debut at the dawn of the new millennium. Attendees vote on the finalists after the field has been narrowed to three per category by a panel of industry luminaries. The eight categories are: Best New Network Management Offering; Best New Carrier or WAN Offering; Best New LAN or Internetworking Offering; Best New Network Infrastructure Offering; Best New Wireless Offering; Best New Software Offering; Best New Internet/Intranet Offering; and Best New Telephony, Fax, or Conferencing Offering. The 24 finalists will be displayed in a special showcase area in the convention center's main lobby.
Ovations, a unique new award program at Comnet, is designed to honor the leaders in service-provider innovation. Ten winners in 10 different categories will be selected by a panel of judges from nominations made by the public. Inaugural Ovations ceremonies will be held Tuesday evening. Technology Ovations will be presented for Access Networking Design and Engineering, Backbone Network Design and Engineering, Operations, and Mobile Network Design and Engineering. Under the business categories, awards will be presented for Consumer Services, Business Services, Business Development, and Customer Service/Customer Care. Finally, under the category of leadership, Ovations will be presented for Community Services and Policy Innovation.