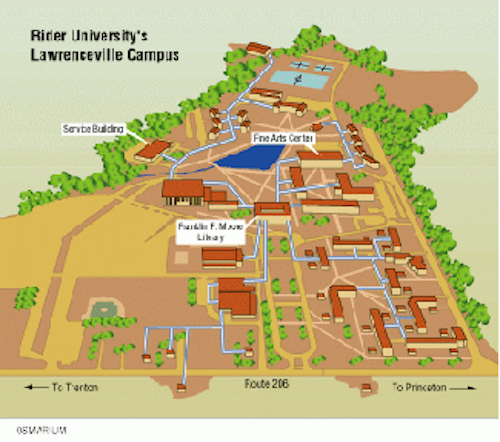 Fiber-optic network converges campus communications services
ATIKEM HAILE-MARIAM
CORNING INC.
At many university campuses, optical fiber forms the basis of high-speed campus networks that are integrating education, research, and administrative communications. In addition to its advantages in transmission performance and its ability to future-proof networks against increasing bandwidth demands, optical fiber is also facilitating cost-effective centralized cabling designs and networking protocol flexibility.
Among the more ambitious college network projects is one at Rider University, which recently completed installation of a new voice, video, and data optical network on its Lawrenceville, NJ, campus. The fiber-optic network consists of an extensive Fiber Distributed Data Interface (fddi) backbone and represents the cornerstone of a $4.8 million information technology initiative.
To develop the comprehensive communications network, Rider awarded $3.8 million in contracts to Bell Atlantic companies: Bell Atlantic Network Integration (bani) provided the cabling infrastructure and network hardware; Bell Atlantic-New Jersey supplied advanced services for data and voice capabilities on the telephone company`s network; and Bell Atlantic Meridian Systems provided a fiber-distributed, digital public branch exchange switch with voice mail and communications capabilities.
Says Bruce A. Metz, Rider associate vice president for information technology, "We wanted the network to improve the quality of teaching and learning, to improve student life, to improve administration, and to advance education at Rider during the next 5 to 10 years."
Before the project began, Rider already had emplaced a limited optical-fiber backbone connecting 10 buildings, none of which were residence halls. This old backbone contained just a few fibers, and wiring within buildings proceeded without any formal distribution-system standards. "We had home-grown expanses of Category 3, unshielded, twisted-pair copper wiring," recalls Metz, "which proved difficult to maintain."
The old network was used primarily for e-mail, Internet access, library catalog access, file and print sharing, and central computer resources and processing; however, it became insufficient to meet Rider`s expanding needs. The existing network connected only three or four local area networks (LANs) and operated at data rates of 10 Mbits/sec using 10Base-T shared Ethernet protocols on the fiber backbone. Some users had network-level connections at the desktop at 10 Mbits/sec; but most users had terminal-level connections to the backbone at only 9.6 kbits/sec. In addition, the old infrastructure had no extra conduit space for cable expansion. Given these limitations, the outdated backbone could not realistically become a part of the new fiber network.
Rider`s new optical-fiber infrastructure provides the university with extended networking flexibility, and, most important, sufficient bandwidth for the many applications the university is planning in order to enlarge campuswide communications and improve teaching.
Design and installation
The huge project links 39 buildings on a 353-acre campus. Upon completion, the project will include more than 8200 ft of trenches and 38,000 fiber-ft of optical cable. The underground cabling infrastructure consists of two to six 4-inch plastic ducts in each trench, depending on cabling demands.
The network was installed in two phases. In Phase One, which took three months, the optical-fiber backbone was installed underground to interconnect residence halls and fraternity houses. Off-campus connections to the network were also installed at this time.
In Phase Two, which was completed in six months, all the academic and administration buildings were connected. This phase was done during the fall semester, while the campus was fully occupied and busy, without major or unexpected difficulties
According to Phil Oliver, director of operations at Oliver Communications Group Inc., Bordentown, NJ, the company selected by bani to install the optical-fiber cable, "Because of the project`s short time frame, work schedules required 14- and 16-hour days."
The use of optical-fiber cable kept the network design simple and the installation uncomplicated and swift. Oliver says that "using fiber definitely speeds things up. Fiber cable is light and small, and a plus where duct space is scarce. Bulky copper cable requires more excavation and additional ducts, adding time and expense to a project. We got into a lot of places where there was a space concern, but we easily put in 24-strand fiber-optic cable. Fiber actually saved cost on this installation."
Also, because of optical fiber`s longer transmission distances, compared to those of copper, fewer outdoor splices and connections were needed. The fiber installation saved time and money and reduced the risk of future problems with connections.
Adds Oliver, "If we`d had to install copper, we never would have completed the job as fast as we did. The conduit was built for a fiber install with spares. If we`d had to build a conduit for copper cables that would match the ability of fiber, the conduit would have had to accommodate twice the number of duct banks. Copper would have called for outside splicing; with fiber, there was none. Fiber was a much cleaner installation."
The optical-fiber cabling infrastructure provides Rider with sufficient bandwidth to meet present and future networking demands. The backbone consists of cables containing 144 strands of multimode fiber and cables with 72 singlemode fibers.
In the distribution portion of the network, composite cables of 18 multimode and 6 singlemode fibers are used to connect the backbone to individual buildings. The network forms a dual-star topology, with fiber connectivity to each building emanating from two hubs: one in the main computing center in the Fine Arts building, and the other hub in the Franklin F. Moore Library (see figure).
Observes Oliver, "Now if Rider wants to run video, the singlemode fiber is already installed in the composite cable. It would cost twice the labor to put it in later. So Rider gets the singlemode fiber practically for free."
The fiber was terminated in closets in each campus building. From the closets, Category 5 copper was installed to carry data to each room; Category 3 copper wiring was used for voice; and coaxial cable was installed for cable TV. Bani supplied all coaxial cable and copper wiring, and Integration Specialists Inc., Alexandria, VA, provided the video electronics.
"Every office, classroom, and conference room is connected to the voice and data networks," says Rider`s Metz. "Video is installed everywhere except in the offices." In the residence halls, approximately 1800 students are provided with individual Ethernet and voice connections in their rooms, along with a single video connection per room.
In addition, the Rider fiber backbone offers bandwidth-on-demand to users across campus. The network provides both fddi and Asynchronous Transfer Mode (ATM) operations, with data rates in the backbone running as high as 155 Mbits/sec. Nearly all users have network level connections--either shared or switched 10- or 100-Mbit/sec connections--at the desktop. In a few cases, users have ATM speeds at the desktop.
"ATM is the primary transport for Rider`s multimedia instructional network," says Metz. "It will be used for the delivery of multimedia instructional materials, including images, audio, and video, prepared by the faculty. Also, ATM will allow us to send digitized multimedia library materials to electronic lecture halls, selected public access laboratories, the library, and Rider`s interactive media center."
New services
The fiber network totals approximately 10,000 connections: 4000 data, 4000 voice, and 2000 video. Every student at the university has a voice mailbox, an e-mail address, and a central computing account. Students with a computer at home or in a dormitory room are given a software kit, including tcp/ip networking software and the Netscape Internet browser.
"We are using a client/server system," says Metz, "which is geared to Rider`s library online catalog system and other databases used there. With client/server software, students can use video graphics on their computers. We want to build on Rider`s strength of faculty/student contact. If faculty and students can collaborate outside the classroom, they will facilitate a higher level of contact within the classroom. That`s why we made the network ubiquitous and why we`re using graphical client/server systems," notes Metz.
Many users on the previous network had a serial connection, but not a network connection. The new fiber backbone enables computer connections and upgrades, network card additions, and memory expansion. A high percentage of the university community is now connected to the network.
"Also," Metz continues, "all of the previous services will be improved with the new network both in terms of speed and function. For example, e-mail is now moving to a client/server environment. Users do not have to log onto a central computer, because everything is done at the desktop; uploading and downloading tasks are eliminated."
The new fiber backbone also allows for the deployment of a host of new services: a robust intranet; fax server; collaboration services, including document management and discussion groups; videoconferencing; network printing; and integrated e-mail/ voice-mail/fax messaging. q
Atikem Haile-Mariam is market development manager, premises, at Corning Inc., Corning, NY.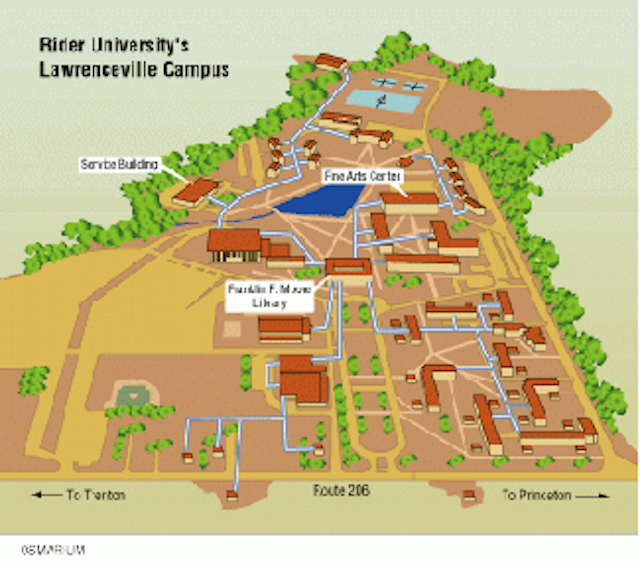 In the Rider University campus, composite cables of 18 multimode and 6 singlemode fibers are used to connect the backbone to individual buildings. Fiber connectivity to each building emanates from two hubs: one in the main computing center in the Fine Arts building, and the other in the Franklin F. Moore Library.