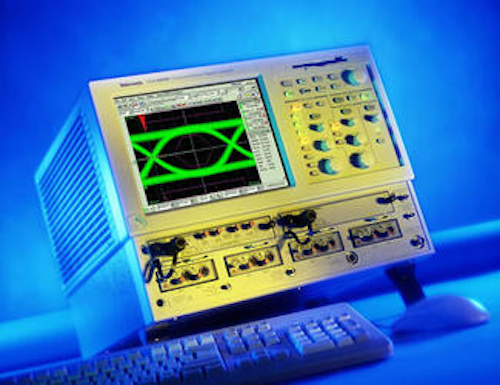 Test equipment manufacturer Tektronix Inc. has announced an upgrade to its popular communications signal analyzer and introduced two new optical sampling modules aimed at the fast-growing 10-gigabit Ethernet (10-GbE) and Optical Transport Network markets.
The new Tektronix CSA8000B Series Communications Signal Analyzer coupled with the new 80C08 Optical Sampling Module form what Tektronix claims is the industry's first integrated solution offering the measurement sensitivity and throughput required for emerging 10-GbE manufacturing production requirements.
The heart of the CSA8000B's 10-GbE measurement capability is the new 80C08 Optical Sampling Module. This module uses an amplified optical-to-electrical converter to deliver the lowest noise level (2 (W RMS typical) and the highest optical sensitivity (minus 13 dBm) of any solution on the market today, claims Tektronix.
The 80C08 also uses dedicated per-channel signal acquisition processing to speed test throughput.
The 80C08 supports testing of components, modules, and systems based on the Draft IEEE P802.3AE 10-Gb Ethernet standard utilizing 10GBase-W (10.3125 Gbits/sec) and 10GBase-R (9.95328 Gbits/sec) data rates. Compatible with optical wavelengths ranging from 700 nm to 1650 nm, the 80C08 can be connected to either singlemode or multimode fiber. The module also offers optional integrated clock recovery supporting both data rates.

The new 80C09 Optical Sampling Module, which is also being introduced, supports 10-Gb/s OTN applications as specified by ITU-T G.709 standard and provides complete optical test solutions for OC-192/STM 64, as well as general purpose optical component testing. The receiver accepts singlemode fiber input for 1100-nm to 1650- nm wavelengths and also offers optional integrated clock recovery supporting both data rates (9.953 and 10.71 Gbits/sec).
The CSA8000B accommodates up to eight channels (a combination of up to two optical and eight electrical channels) and can be configured to address any of the prevailing optical data-communication and telecommunication data rates between 155 Mbits/sec and 40 Gbits/sec in operation today.
The TDS8000B addresses high-speed electrical impedance characterization testing (including time domain reflectometry) measurements used in microprocessor bus systems, electrical interconnects, and telecommunication equipment.
The CSA/TDS8000/8000B support modules with optical and electrical bandwidths to 50 GHz.
The Tektronix CSA/TDS 8000B, 80C08 and 80C09 Optical Sampling Modules are available for order now with a 4 to 6-week delivery from receipt of order. Pricing for the CSA/TDS 8000B starts at $19,990. The 80C08 Optical Sampling Module starts at $28,000 and the 80C09 Optical Sampling Module starts at US $29,500. For more information about the CSA/TDS 8000B, the 80C08 and 80C09 Optical Sampling Modules, or for more information about test, measurement, and monitoring solutions from Tektronix Inc. (Beaverton, OR), visit the company's Web site at www.tektronix.com.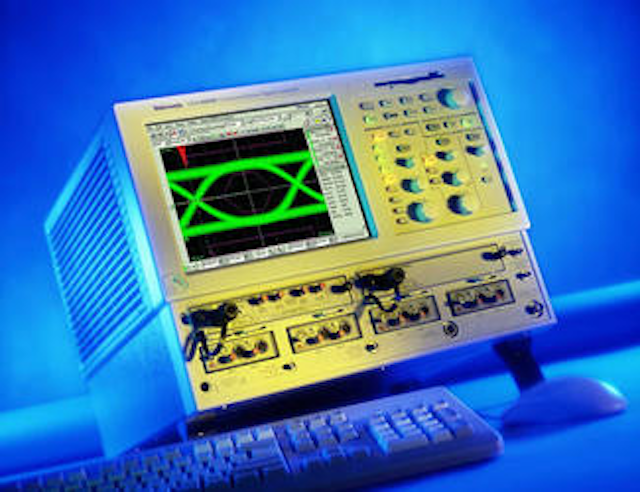 The CSA8000B Communications Signal Analyzer