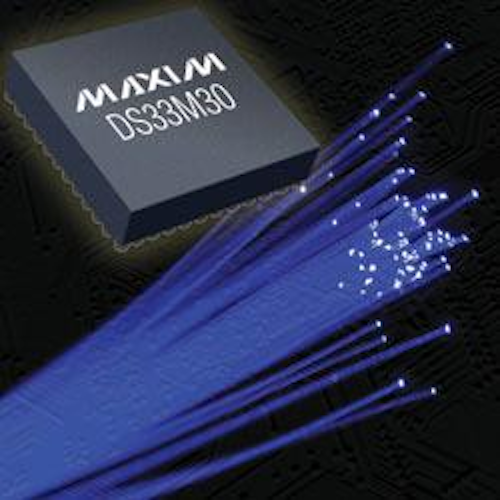 MARCH 25, 2009 -- Maxim Integrated Products (search Lightwave for Maxim Integrated Products) introduces the DS33M30/DS33M31/DS33M33 Ethernet-over-SONET/SDH (EoS) mapping devices. The mappers merge new protocols for transporting Ethernet with the protocols of legacy optical networking, allowing service providers to deliver new Ethernet services using the existing optical transport infrastructure.
Maxim says its devices are the industry's first monolithic SONET/SDH mapping ICs to support the Ethernet-over-PDH (EoPDH) protocol over optical networks. The DS33M31 and DS33M33 both have a 17x17-mm footprint, with the DS33M33 including three additional DS3/E3 add/drop interfaces. The DS33M30 lacks the DS3/E3 functionality but is reportedly the industry's smallest EoS mapper at 10x10 mm. All three devices require a minimal number of external components to implement a complete Gigabit Ethernet to OC-3/STM-1 solution, providing support for Ethernet access equipment, multiservice provisioning platforms, microwave radios, and IP DSLAM uplinks.
The DS33M31/DS33M33 perform EoPDH mapping of Ethernet frames from a Gigabit Ethernet interface into a DS3/E3 frame format, then use traditional SONET/SDH mapping techniques to place the DS3/E3 tributaries into an optical OC-3/STM-1. This merger of new and old protocols results in a technology known as Ethernet-over-PDH-over-SONET/SDH (EoPoS). When EoPoS technology is used, the manufacturer says, the optical transport network can manage a link as if it carried traditional PDH traffic. This results in the reuse of optical network equipment, provisioning systems, monitoring systems, and test equipment.
Maxim says the DS33M31/DS33M33 support not only EoPoS mapping, but also the more traditional EoS mapping in virtually concatenated high-order containers, as does the DS33M30. The supported frame encapsulations include GFP-F, HDLC, cHDLC, and X.86 (LAPS). These mappers have Ethernet OAM insert/extract capability, QoS priority scheduling, VLAN processing, and CIR policers for the delivery of variable-rate Carrier Ethernet services. They also have a 1,000-Mbps GMII Ethernet port, an Ethernet MAC, dual protected STS-3/STM-1 SerDes ports with LVDS/LVPECL interfaces, a GFP-F/HDLC/cHDLC/X.86 protocol encapsulator, a SONET/SDH mapper, a DDR SDRAM interface, and a local bus port for host control. The SerDes interfaces can be seamlessly connected to commercially available optical transceivers.
The DS33M30 is available in a 144-pin CSBGA package and the DS33M31/DS33M33 are available in a 256-pin CSBGA package, all specified over the -40° to +85§C extended industrial temperature range. Design kits and software drivers are available to reduce design time.