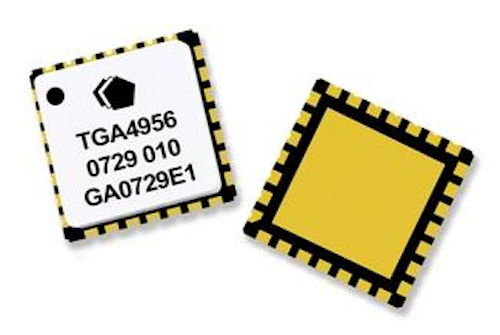 MARCH 27, 2009 -- TriQuint Semiconductor (search Lightwave for TriQuint), an RF product manufacturer and foundry services provider, has released two new driver amplifiers including, the company claims, the optical communications market's first surface-mount technology (SMT) device for next-generation 40-Gbps networks.

The TGA4943-SL combines multiple amplifiers and filters within a surface-mount package, intended to provide designers easier assembly for 40-Gbps optical networks.
"The new TGA4943-SL represents significant advances on many levels. Its power consumption is appreciably better. It consumes only 2.1 W -- about 50% of comparable optical network solutions. It's a greener product that should provide real-world savings for network operators," says TriQuint optical networks product marketing manager Mike Tessaro.
Tessaro adds that the new driver amplifier was developed in cooperation with major transceiver and modulator manufacturers. The device is based on previously released driver amplifiers including TriQuint's TGA4953 and TGA4954 for 10-Gbps optical networks. The new module was created specifically to meet the performance requirements of the differential quadrature phase-shift keying (DQPSK) modulation standard that enables very high-speed 40-Gbps optical networks.

"Telecom companies can't afford to stop investing in the roll-out of 10-Gbps and 40-Gbps networks. The long-haul market in particular uses LiNbO3 modulators for which GaAs-based drivers offer the best performance. Being able to improve the performance of these drivers while reducing power dissipation and improving the thermal operation of the core components will be an important element to maintaining the momentum behind network roll-outs,? says Asif Anwar, director, GaAs and Compound Semiconductor Technologies Service, Strategy Analytics (search Lightwave for Strategy Analytics).
"Strategy Analytics projects the overall growth for GaAs drivers will be 7% through 2012 -- growth in the 40-Gbps market will be even greater as the need for wider bandwidth on existing fiber networks promotes more efficient pulse transmissions schemes like DQPSK. Based on our evaluation of the market we believe TriQuint is a leader in developing optical driver amplifier technology," Anwar adds.
TriQuint also announced the release of an 8x8-mm surface-mount driver amplifier (TGA4956-SM) for 10-Gbps optical networks. The new driver amplifier is smaller than previous generations and also offers lower power dissipation for less waste heat within a system and lower overall power consumption. The amplifier provides for both low drive voltage (3 Vpp) and for high voltage (6 Vpp) drive capability with scalable power supply voltage as well as easier and economical surface-mount assembly, making it appropriate for upgrades to 10-Gbps networks.
Samples and evaluation boards are available for both the TGA4943-SL (40 Gbps) and the TGA4956-SM (10 Gbps).

Visit TriQuint
For more optical equipment design information, visit the Optical Equipment Design Center