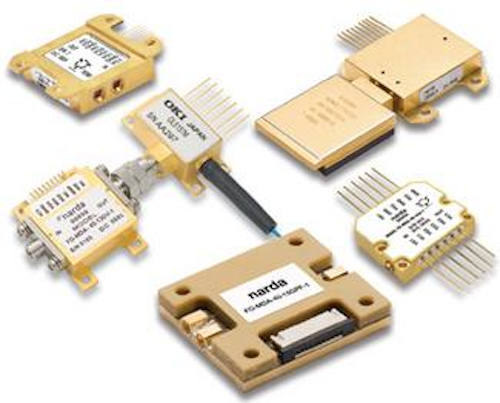 AUGUST 19, 2009 -- At ECOC 2009, Narda (search Lightwave for Narda) will be exhibiting its new family of modulator drivers for 40- and 100-Gbps fiber-optic systems. The units are optimized for 300-pin multisource agreement (MSA) transponders and cover small-form-factor (SFF) very short-reach (VSR) applications; differential phase-shift keying (DPSK) and optical duobinary (ODB) long-reach applications; and differential quadrature phase-shift keying (DQPSK) requirements at 40 and 100 Gbps.
Narda's new driver products incorporate proprietary gallium arsenide (GaAs) MMIC technology, which the company says provides broader bandwidth and higher performance needed for the emerging new modulation formats, including DSPK and DQPSK. New packaging technology is also being utilized to make the products more cost effective.
Narda will display its new modulator drivers at booth #612 at ECOC 2009, September 21-23, in Vienna, Austria.

Visit Narda